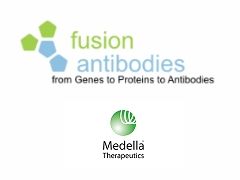 We hope that a humanized anti-AM2R antibody will offer targeted treatment for cancers with currently unmet clinical need.
Belfast, UK (PRWEB UK) 20 April 2016
AM2R is one of two distinct heterodimeric cell-surface receptors for the hormone Adrenomedullin (AM), which is responsible for several important functions including control of blood pressure, as well as playing a key role in the growth and spread of many cancer types. AM's physiological role is mediated primarily through the heterodimer AM1R, containing the protein RAMP2, but it is through selective targeting of AM2R, containing the protein RAMP3, that cancer growth and spread can be inhibited. RAMPs are a small family of transmembrane proteins that associate with a group of non-specific cell-surface receptors, to coordinate a range of different physiological responses.
Paul Kerr, Managing Director of Fusion Antibodies: "We have worked with Medella Therapeutic's team as a CRO and the opportunity to increase our involvement with this exciting antibody is something were we can add significant value through our expertise in humanization and antibody drug development."
Professor Tim Skerry, CSO of Medella Therapeutics and Head of the Department of Oncology and Metabolism at the University of Sheffield said," Thanks to the support of IP Group plc, Medella Therapeutics have progressed the idea of inhibition of AM2R with a monoclonal antibody through early preclinical development to a stage where humanization of the antibody is the next step towards regulatory approval and clinical trials. Having worked with the Fusion Antibodies team in the past, we are excited to partner with them to take the project forward with their cutting-edge technologies and services. We are optimistic that the work will lead to a robust clinical candidate. AM2R is becoming recognised as an important target in oncology, because of its widespread expression in tumour cells and involvement in metastasis, yet low levels of expression in normal host tissues. We hope that a humanized anti-AM2R antibody will offer targeted treatment for cancers with currently unmet clinical need."
About Fusion Antibodies
Fusion Antibodies, a UK based life science company with innovative technologies and world-class expert services for therapeutic antibody drug discovery & development, are specialists in the production of High Quality Humanized Monoclonal Antibodies and Antibody Cell Line Development Projects. With over 15 years of experience in the medical research industry, including multiple Antibodies in clinical and pre-clinical trials, Fusion Antibodies have extensive experience in accelerating therapeutic drug research towards the clinic.
Fusion Antibodies has the knowledge and expertise to build and deliver a bespoke package of the services you need to achieve outstanding results. They provide Royalty-Free Antibody Humanization of Monoclonal Antibodies and using their next generation in-silico CDRx™ technology, they have modernized the traditional CDR grafting technique. Humanized monoclonal antibodies are an essential step in the progression of therapeutic drugs to the clinic and the in-house expertise at Fusion Antibodies ensures its success.
Visit their website to find out more.
About Medella Therapeutics
Based on the leading research of Prof Tim Skerry and Dr Gareth Richards, Medella Therapeutics Limited is a spin-out company from the University of Sheffield, focused on the discovery and development of novel drugs that interfere with the cell signalling activities of Receptor Activity Modifying Proteins (RAMPs). RAMPs are exciting targets implicated in a range of diseases including bone disease, cancer, cardiovascular disease, inflammation, neurological function and obesity.