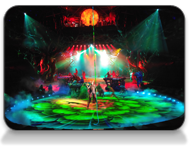 Xishuangbanna, China (PRWEB) April 20, 2016
Christie®, a leader in creating and delivering the world's best visual and audio experiences, is using its advanced visual technologies to present a mesmerizing visual experience to visitors at a new perfo​​​​​rming arts theater in Xishuangbanna, Yunnan Province.
Known as the Dai Show Theater, it is developed by Chinese conglomerate Wanda Group and located within the luxurious Xishuangbanna International Resort. The theater is shaped like a bamboo hat, an embodiment of unique Dai culture, and has already gained landmark status in the autonomous region. Besides the architectural beauty it exudes, the Dai Show Theater boasts advanced technical and technological equipment to complement a permanent 75-minute acrobatic water spectacle orchestrated by one of the world's top theatre directors, Franco Dragone – best known for the Cirque du Soleil shows.
Since its opening late last year, visitors from around the world have been entertained by the meticulously choreographed presentations combining aerial, aquatic and immersive stage performances, as well as realistic projection mapping using Christie M Series projectors that created an exceptional visual experience. The canvas was the stage floor and the projectors painted it beautifully with lifelike images that complemented the fluid movements of performers.
Eight Christie DS+14K-M​ 3DLP® projectors, each boasting a brightness of 14,000 center lumens, have been installed above the theater to ensure maximum effect. Christie's trusted partner, Wincomn Technology, undertook the crucial role of design, systems integration, installation, commissioning, operation and maintenance of the projection system at this state-of-the-art performance venue.
"The end-user had very high expectations of the projection system, and we had to deploy our most experienced teams to ensure that the high standards expected in terms of systems design, stagecraft and artistic effects were perfectly executed, so that the vivid and realistic images can immerse the audience in this mythical world. The Christie DS+14K-M projectors deployed had also performed excellently throughout the installation and commissioning phase," said Tony Chen, general manager, Wincomn Technology. "We are therefore very excited and pleased to witness how amazing and visually captivating the show at the Dai Show Theater is, and to receive the 'Excellent Supplier' banner awarded by Wanda Group."
Chen said the Christie DS+14K-M projectors were selected due to their ability to clearly display images with great details in high resolutions and produce the bright and vibrant images needed for the show. "We complemented the Christie DS+14K-Ms with projector yokes and the latest VYV tracking system; in the end, only eight projectors were required to make the show a success, instead of 20 units originally planned," he added.
The stage was transfo​rmed into a mystical jungle where a love story between a city boy captivated by the beauty of princess Dai, the rainforest goddess unfolded, as depicted in Dai cultural mythology. The M Series projectors enhanced the stage's existing props to create different scenarios and special effects to imitate a live experience of wind, rain and thunder. At one point, the stage was filled with water to mimic the effect of a heavy downpour – ripples and projections of raindrops were created using visual effects. The combination resulted in a truly immersive experience for the audience.
In recognition of its dedication and professionalism in the completion of the Dai Show Theater project, Wanda Cultural Industry Group presented Wincomn Technology with the coveted "Dai Show Theater Excellent Supplier" banner. The latter was also the proud winner of the "Systems Integrator of the Year" award recently handed out by renowned online portal Projection Time​ for its exceptional achievement in this project.
"The flawless projections during the performances have been made possible with the great partnership we have with Wincomn Technology. They have once again proved their capabilities on delivering results," said Jason Pei, Deputy General Manager, Christie China. "It's amazing to know that our M Series projectors were the choice for making this happen at the iconic Dai Show Theater."
Lin Yu, Vice President, Christie Asia Pacific, commented, "Christie is extremely honored to have played a significant role in making the Dai Show Theater a reality and be part of a national icon that helps attract people from all over the world to enjoy an immersive experience in theatre. I would like to congratulate Tony and his team for delivering yet another outstanding project, and garnering numerous accolades from Wanda and the AV industry in China for a job well done."
Ideal for flat or curved screens in rental staging applications as well as large auditoriums, board and conference rooms, houses of worship, and post production in either single or multiple projector setups, the Christie M Series has long been considered an industry workhorse. With its enhanced performance, portrait capabilities and an improved 450W lamp that adds 500 hours, it provides the high-performance and feature-rich standards expected in all Christie products.
Over the years, Christie has accumulated a wealth of experience and expertise in cultural assets development and location-based entertainment through its involvement in a number of major projects in China using its innovative technology and visual solutions. These include the 2010 Shanghai World Expo, the mesmerizing Light of Wuxi 5D show at Wuxi Studio, the spectacular Glamorous Sky Over Hengqin show at Chimelong Ocean Kingdom, as well as heart-stopping rides at Wanda Movie Park and stunning projections at Han Show Theater in Wuhan.
About Christie
Christie Digital Systems USA, Inc. is a global visual and audio technologies company and is a wholly-owned subsidiary of Ushio, Inc., Japan, (JP:6925). Consistently setting the standards by being the first to market some of the world's most advanced projectors and complete system displays, Christie is recognized as one of the most innovative visual technology companies in the world. From retail displays to Hollywood, mission critical command centers to classrooms and training simulators, Christie display solutions and projectors capture the attention of audiences around the world with dynamic and stunning images. Visit http://www.christiedigital.com.