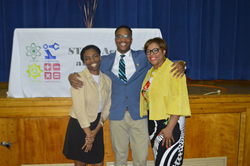 "These two scholars—like those before them—prove that zip code has nothing to do with talent. Chester Upland students are succeeding and our schools remain committed to helping all students reach their full potential." - Gregory Shannon, Supt., CUSD
Chester, PA (PRWEB) April 21, 2016
Chester Upland School District Receiver Francis V. Barnes, Superintendent Gregory G. Shannon and Chief of Staff Claudia Averette today recognize Autumn Bey and Edward Nelson Jr., both seniors at STEM Academy, for their selection as 2016 Gates Millennium Scholars.
Today's announcement brings the total number of Gates Millennium Scholars from this financially challenged district to six in the past four years—an unprecedented achievement, Ms. Averette told STEM seniors, the winners' family members and others from the school and community during an afternoon event in the STEM auditorium.
"We are gathering today to celebrate the achievements of two of our STEM seniors," she said. "As recipients of the Gates Millennium Scholarships, they will receive fully funded scholarships covering tuition, books, room and board through graduate school."
Ms. Averette read a statement from Superintendent Shannon, who was unable to participate in the event due to illness:
(Start of statement) "We are so proud of Autumn Bey and Edward Nelson Jr. for working diligently to achieve this significant honor and its very generous benefits.
"I want to note that our 2016 Gates Millennium Scholars are the fifth and sixth named in Chester Upland School District since this administration began leading the district in 2013. Our entire workforce should be recognized for their tireless efforts working with these outstanding students and all of our children. These are the same dedicated teachers and staff who were willing to work without pay as school began this year, and their commitment is absolutely outstanding.
"I am sure that Autumn and Edward's dedication and ambition will continue to inspire students throughout our district. We look forward to great things from them in the future and wish them the best." (End of statement)
The Millennium Scholars program was established in 1999 and funded by a $1.6 billion grant from the Bill & Melinda Gates Foundation to remove financial barriers to higher education for high-achieving, low-income students. Each year, the highly competitive program has selected 1,000 talented students nationwide to receive a good-through-graduation scholarship to use at any accredited college or university of their choice.
Previous Millennium Scholars include Kameron Staples in 2013, Justin Platt and Kamri Staples in 2014, and Shamyra Woods-Elliott in 2015. STEM Academy has a track record of achievement, including all four of the district's prior Gates Millennium Scholars.
Both of the 2016 scholars are enrolled in Advanced Placement classes, including physics, calculus, U.S. history, and literature and composition. They also are varsity athletes. Autumn is captain of the volleyball team, and Edward is captain of the football team. Autumn serves on the STEM Academy Youth Court, a peer discipline panel, and Edward is president of the Class of 2016.
Autumn plans to pursue a degree in neuropsychology and continue to medical school to research cures for cognitive disorders such as Alzheimer's Disease. Edward plans to pursue a degree in education, with hopes to become a school superintendent. The scholars have yet to make final decisions on college destinations, but each said that without these scholarships their options would be limited based on affordability and location. Now their horizons are as wide as their imaginations.
"If it's a challenge that comes with a reward, I feel you should step up to it," said Edward. "My father always told me to shoot for the moon, because even if you miss, you'll still be among the stars."
In 2012, Chester Upland administrators created a program identifying and mentoring talented students who otherwise might not pursue higher education due to family circumstances. Students are invited to participate as high school juniors, making a two-year commitment to participate in an extracurricular program to guide them through the arduous process of writing the eight essays required for the Gates Millennium Scholar application. Knowing that other Chester Upland students, many of whom were friends and teammates, had received scholarships helped them stay focused.
While the creative process was demanding and the editing was tedious, both scholars said the process of applying for the scholarship helped them grow and prepared them for upcoming challenges.
"I knew in my heart that if I could receive this scholarship, achieving my dreams would become a lot easier," said Autumn. "This made me realize I can do anything I set my mind to."
The district was identified in 2012 by the Pennsylvania Department of Education as the state's worst performing district both academically and financially. Superintendent Shannon joined the district in 2013, emphasizing academic rigor and turning a previously toxic school environment into a safe, positive climate conducive to learning.
"These scholars—like those before them—prove that zip code has nothing to do with talent," Superintendent Shannon said. "Chester Upland students are succeeding and our schools remain committed to helping all students reach their full potential."
The superintendent recognized STEM Academy Principal Jonas Crenshaw and community volunteer and student coach Jean Arnold for their commitment to providing guidance and support to the students as they went through the rigorous steps of the Gates competition.
About Chester Upland School District
Chester Upland has been under state control for more than two decades. In 2012 it became the first district under a law enacted that year to receive special state attention focusing on fiscal and academic challenges. Gregory Shannon was hired as superintendent in 2013 to bring academic rigor to the district while also turning a previously toxic school environment into a safe, positive climate conducive to learning.
About STEM Academy at Showalter
The Science Technology Engineering and Mathematics (STEM) Academy at Showalter is designed to prepare students in grade 7-12 for 21st century careers in the sciences and engineering. Housed in the Showalter building, students are selected through an application process. Students accepted into this program must meet specific criteria: minimum GPA of 2.5, no serious behavioral incidents, above average attendance, positive teacher recommendation, and parental commitment.
###
Media queries: Contact Becky Taylor at 609.240.6886 or becky(at)btaylorpa(dot)com.