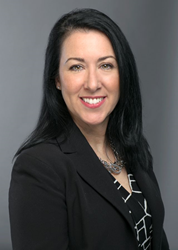 In partnership with our clients, Laura will work to find common ground and help overcome barriers that prevent growth of our region's transportation infrastructure network
NEW YORK (PRWEB) April 19, 2016
Laura Imperiale joins HNTB Corporation as the firm's government relations director-Northeast Division. She brings more than 15 years of public and private sector experience in advocacy, coalition-building and public policy development. Imperiale is based in HNTB's New York City office.
"Laura's experience working with state and local governments, coupled with her extensive industry relationships are important components for successful outreach and consensus," said Mike Sweeney, PE, HNTB's Northeast Division president. "In partnership with our clients, Laura will work to find common ground and help overcome barriers that prevent growth of our region's transportation infrastructure network."
Imperiale will implement the firm's government relations strategy and continue to build important relationships with key audiences, both public and private, throughout the Northeast region.
Imperiale comes to HNTB from Tully Construction Company where she was director of government affairs. Previously, she served as chief of staff for New York City Council Member Diana Reyna, New York City district director for New York State Senator Liz Krueger, and as vice president of the government affairs firm of Constantinople & Vallone Consulting LLP.
A graduate of New York University's Robert F. Wagner School of Public Service, Imperiale holds a master's degree in urban planning with specialization in transportation, infrastructure and environmental planning. She also has a Bachelor of Arts degree in political science from the University of Massachusetts, Boston, and a certificate in construction management training for disadvantaged business enterprises, and minority and women business enterprises from Manhattan College.
Active in numerous organizations, Imperiale holds leadership positions with the Associated General Contractors of New York State, New York Building Foundation, General Contractors Association, the New York League of Conservation Voters and the Queens Chamber of Commerce, among others. She also is a member of the Building Trades Employers' Association, New York Building Congress, Association for the Improvement of American Infrastructure, Association for a Better New York, the Brooklyn Chamber of Commerce, Professional Women in Construction and the American Planning Association.
HNTB plays an integral role in many of the region's most important infrastructure programs, including construction manager for renewal and rehabilitation of New York City Transit's Sea Beach line, program manager for New Jersey Transit's implementation of Positive Train Control technology, owner's engineer for the New NY (aka Tappan Zee) Bridge, lead designer of the Kosciuszko Bridge and the general engineering consultant for the New Jersey Turnpike Authority, among others.
About HNTB
HNTB Corporation is an employee-owned infrastructure solutions firm serving public and private owners and contractors. With more than a century of service, including more than 90 years in New York, HNTB understands the life cycle of infrastructure and addresses clients' most complex technical, financial and operational challenges. HNTB's New York offices currently employ more than 400 full-time professionals in nine tri-state locations. Professionals nationwide deliver a full range of infrastructure-related services, including award-winning planning, design, program management and construction management. For more information, visit http://www.hntb.com.