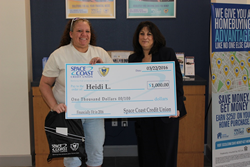 SCCU strives to be our Members' Watchdog, protecting our members' financial interests in all aspects of their lives.
Melbourne, FL (PRWEB) April 20, 2016
Space Coast Credit Union (SCCU) recently announced Rockledge resident Heidi L. as the $1,000 winner of its Financial Fitness Sweepstakes in a check presentation at her local branch.
The event capped off the credit union's first major campaign of the year which focused on encouraging members to take steps towards becoming more financially fit in 2016.
"Many of us make New Year's resolutions, but only a small portion of people actually achieve their New Year's goals," said Laura Richard, Vice President of Marketing at Space Coast Credit Union. "SCCU wants to help our members experience financial success through savings, budgeting, and refinancing to save interest or reduce loan payments. Our fun, interactive financial fitness quiz engaged sweepstakes participants, and raised their awareness through helpful articles and tips to improve money management habits."
To enter the sweepstakes, participants completed a short online quiz assessing their current financial fitness. Based on their answers, participants were then assigned one of six quirky avatars ranging from "Newbie" – someone just starting out with little savings or credit – to "Olympian" – a veteran with decades of financial experience. With each avatar came five unique action steps linking to educational articles to help participants improve or maintain their financial fitness.
More than 13,000 people completed the quiz over the course of the two-month campaign – 300% of SCCU's original goal. In addition to the high level of participation, the quiz also helped generate 41 new Free Checking accounts and seven auto loans through special offers associated with the campaign, helping members save money with no fees and low auto loan rates.
A second layer was added on social media where members could enter to win one of four Fitbit Activity Trackers if they shared their quiz results with friends on the SCCU Members' Watchdog Facebook page and Twitter.
"SCCU strives to be our Members' Watchdog, protecting our members' financial interests in all aspects of their lives," Richard said. "We help our members achieve their financial goals by offering advice through experienced professionals, recommending affordable products that are right for each member's unique circumstances."
While the sweepstakes portion of the campaign has concluded, the quiz itself is still available to take on the credit union's website. To take the quiz, visit SCCU.com, hover over "Planning & Advice" in the main toolbar and click "Take the Life Stage Quiz."
---
Space Coast Credit Union was chartered in 1951 and is headquartered in Melbourne, Florida. The Credit Union serves over 300,000 members with assets of over $3.4 billion through a network of 58 branches and over 100 ATMs located throughout Florida and through its web site, SCCU.com. Space Coast Credit Union is open for membership to anyone who lives or works in the fourteen Florida counties it serves. Visit SCCU.com/Careers to learn more about what SCCU has to offer and view a list of current job openings in each department.
###