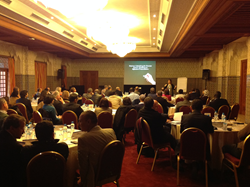 85% of attendees rated the program as "excellent" and relevant to their clinical practice and 81% rated the overall quality of the speakers and content as "excellent
Atlanta, Georgia (PRWEB) April 21, 2016
Innovaacom, a leading provider of medical education and training for healthcare professionals, today announced the results of a series of worldwide medical education conferences to advance knowledge in the treatment of infectious disease. The programs were attended by more than 250 physicians from close to 30 countries. Specialists gathered to share best practices for improving early diagnosis and treatment for the more than 300 million people worldwide who develop serious fungal infections each year.
Currently, the worldwide mortality rate for patients with invasive fungal infections is over 50% with 1.3 million deaths reported annually. Panels of global experts in anti-fungal and infectious disease medicine facilitated the highly interactive program that encouraged physicians to build better clinical care pathways and guidelines for the treatment of infectious disease in their regions. "It is very important for our respective countries to understand how to allocate the proper resources to prevent the spread of disease and develop realistic care pathways to improve life expectancy in these patients," said one attendee.
Post-program survey results found that 85% of attendees rated the program as "excellent" and relevant to their clinical practice and 81% rated the overall quality of the speakers and content as "excellent." The data was compiled following the completion of scientific exchange programs that were held across three continents. In addition, 100% of respondents said they would recommend the training program to their colleagues.
Innovaacom partners with industry leaders to provide physicians with global access to innovations that will prepare them to meet today's challenges in medicine. Nearly 11,000 physicians, pharmacists and nurses in more than 60 countries from across Europe, Asia, Latin America, Africa, China and the Middle East have benefitted from the programs that positively impact clinical practice and public health policy. For more information, visit http://www.innovaacom.com.
About Innovaacom
Innovaacom is a global agency providing medical education and training for healthcare professionals worldwide. Headquartered in Rome, Italy, Innovaacom also operates strategic hubs in the U.K., U.S., U.A.E and New Zealand and delivers programs in any language anywhere in the world. A preferred medical education provider to some of the world's largest pharmaceutical companies, Innovaacom's training combines science with leadership and communications skills training. Program design and delivery includes CME and non-CME training programs for physicians, community pharmacists, and nurses that enhance the quality of scientific exchange to advance science and medicine.