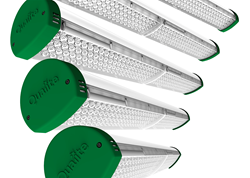 Hillsdale, Michigan (PRWEB) April 20, 2016
Qualite today introduced the Q-LED GameChanger™, the new generation of sports lighting designed and manufactured in Michigan. Q-LED GameChanger™ features a new linear design producing up to 75% energy savings over the existing standard metal halide technology. Qualite's Q-LED GameChanger™ features proprietary optics with built-in glare control yielding beam shapes engineered for sports lighting, low power consumption, high energy efficiency, fully integrated wiring (no exposed wiring), and "sunlight" color temperature.
"The Q-LED GameChanger™ is the first high performance sports lighting system designed for all sports venues, from Little League fields to professional sports stadiums with a focus on great connectivity and functionality at affordable pricing", said Eric Boorom, Qualite Owner.
The architectural appeal of the new linear design eliminates the need for cross-arms allowing for easier, cost effective installation (Plug and Play) for new projects as well as those venues focused on energy savings through retrofitting any and all existing sports lighting manufacturers' systems.
Q-LED GameChanger™, operates through Q-LED Control™, a scalable, site-based or cloud-based device connectivity through a robust, self-healing, wireless mesh network.
The modular design of the Q-LED GameChanger™ makes it the first system in the industry to be fully upgradable including both the hardware and the software, based on the remotely located driver and controls design.
Q-LED GameChanger™ is now available across the United States and around the world. You can contact a Qualite Sports Lighting Representative in your area by visiting http://www.qualite.com.
Qualite has been the Sports Lighting Partner for high schools, colleges, parks and recreation departments, and minor and major league professional sports franchises for over 30 years.
Q-LED GameChanger™ - The New Generation of Sports Lighting.
Watch Q-LED GameChanger™ Introduction Video