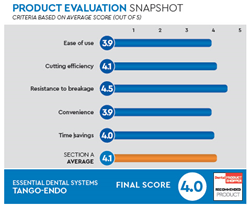 Very easy to use and I love that it's only 2 files. - Abraham Jaskiel, DMD, Miami, FL
S. Hackensack, NJ (PRWEB) June 30, 2016
Tango-Endo instruments from Essential Dental Systems (EDS) are used in endodontic root canal treatments to clean and shape the root canal system. A team of general dentists, recently evaluated the Tango-Endo Introductory Kit, which includes 3 shaping instruments, 3 finishing instruments, the Tango-Endo reciprocating handpiece, and 60 precision matched gutta percha points. The evaluation was based on 5 categories (Ease of Use, Cutting Efficiency, Resistance to Breakage, Convenience, and Time Savings). The Tango-Endo system out performed in all categories.
Many evaluators appreciated that the system was easy to use, with comments about its efficiency and convenience. "It was easy to set up right out of the box with very little training," reported Dr. Abraham Jaskiel, a Miami dentist. When the evaluators were asked to provide 3 reasons why this product could be an invaluable addition to their practices, Dr. Williams listed time savings, convenience, and reliability from resistance to breakage. Dr. Joseph Camuccio, a Florida dentist who has been practicing for 45 years, rated all features of the Tango-Endo system as excellent and said he would definitely recommend
and purchase it. To read more about the Tango-Endo evaluation visit http://www.dentalproductshopper.com/evaluation/tango-endo
The complete Tango-Endo Introductory kit is available at: http://www.edsdental.com/tangoendo/. This page also includes additional product resources and videos.