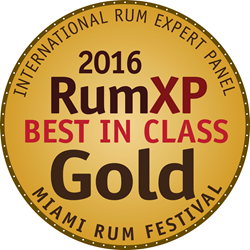 The RumXP international tasting competition attracts an incredible variety of rums from around the world. The best of the best are awarded once a year with medals to highlight their outstanding quality.
Miami, FL (PRWEB) April 20, 2016
The International Rum Expert Panel today announced the list of awarding winning rums from their 2016 blind tasting competition held at the annual Miami Rum Renaissance Festival and Trade Expo.
The event brought together a vast selection of rums from Sweden and Denmark, India, Reunion Island, Madagascar, Puerto Rico, Peru, Barbados, Mexico, Florida, Colorado, Louisiana, Texas, Hawaii, Trinidad, Guyana, Jamaica, Belize, Panama, St. Lucia, Guatemala, Venezuela, Colombia, Antigua, St. Kitts, Haiti, Dominican Republic, The Bahamas and many more rum making countries, as well as Rhums Agricoles from Martinique and Cachaças from Brazil.
The distinguished panel of RumXP judges were sequestered for three days of blind tasting sessions carefully organized by the experienced competition staff before being analyzed and compiled by a veteran team of statisticians.
In addition to the professional RumXP judges, the Consumer Rum Jury, consisting of serious rum enthusiasts from across America and around the world convened to sample and evaluate many fine rums for their own awards.
The results of these two international rum blind tasting competitions based on the categories and styles of rum are as follows.

Best In Class: Bayou Silver
Gold: Blue Chair Bay, Pito Rico Elite, Don Q Cristal, Ron Cartavio Silver
Best In Class: Puerto Angel
Gold: Caliche, Fwaygo, Plantation 3 Star, Skotlander Rum VI, Koloa White
Best In Class: Siesta Key Gold
Gold: Wicked Dolphin, Puerto Angel Amber, Don Q Gold, Koloa Gold
Best In Class: Siesta Key Spiced
Gold: Siesta Key Distillers Solara, Bayou Spiced, Siesta Key Limited Edition Spiced, Koloa Spiced
Best In Class: Koloa Coffee
Gold: Plantation Stiggin's Fancy Pineapple Rum, Don Q Pasion, Blue Chair Bay Banana, Koloa Coconut
Best In Class: Pusser's Gunpowder Proof
Gold: Pito Rico 106, Don Q 151, Gunroom 130 Proof, Skotlander V
Best In Class: Wicked Dolphin Black
Gold: Koloa Black
Best In Class: Bayou Select
Gold: Don Q Anejo, Marauda Steel Pan, Plantation Original Dark, Tiburon
Best In Class: Ron Duran 7
Gold: Plantation 5, Cartavio 5
Best In Class: Yolo Gold
Gold: Cartavio Solera 12, Ron Duran 12, Panama Pacific 9
Best In Class: Pusser's 15yr
Gold: Panama Pacific 23
Best In Class: Plantation 20th Anniversary
Gold: Plantation Gran Anejo, Santeria Rum, Don Q Gran Anejo, Fwaygo Single Barrel
Best In Class: Mezan Jamaica 2000
Gold: Plantation Jamaica 2001, Plantation St. Lucia 2004, Mezan Panama 2006, Don Q 2005, Mezan Guyana 2005
Best In Class: La Mauny Ter Rouj
Gold: Trios Rivières Cuvee du Moulin, Isautier Blanc, La Mauny Blanc
Best In Class: Trois Rivières VSOP
Gold: Isautier Vieux Louis & Charles, Isautier Vieux 7yr, La Mauny XO
Best In Class: Weber Haus
Gold: Germana Ultra Premium, Germana Palha, Novo Fogo Silver, Lundu Silver
Best In Class: Sebastiana Single barrel
Gold: Novo Fogo 2yr Oak, Sebastiana 3yr Double Barrel, Middas Carvalho, Germana Caetano's
The 2016 Consumer Rum Jury Awards
Best In Class: Siesta Key Toasted Coconut
Gold: Koloa Coffee, Plantation Pineapple, Pussers 15, YOLO Gold
Silver: Koloa Coconut, Duran 12, Mezan Panama 2005, La Mauny Spiced, Koloa Dark, Tiburon, Don Q Signature Release 2005
Bronze: Dzama Rhum Nosy Be 104, Balcones Texas Rum, Panama Pacific 9, Puerto Angel Blanco, Fwaygo White, Trois Rivières Cuvee Du Moulin, Blue Chair Bay White