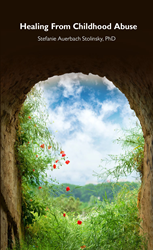 For many, this book will open new doors to the possibility of beginning the journey to create the satisfying lifestyle they deserve.
Amarillo, Texas (PRWEB) April 24, 2016
In honor of Child Abuse Prevention Month, Praeclarus Press announces a new short volume for adults who have experienced childhood abuse. According to author Dr. Stefanie Stolinsky, childhood physical, sexual or emotional abuse can cause long-term harm, often lasting well into adulthood. The mental health effects of childhood abuse include depression, post-traumatic stress disorder, substance abuse and anxiety. Abuse survivors are also at higher risk for physical health problems, such as diabetes and heart disease. These effects do not simply "go away" as children mature.
The good news is that adults can heal from trauma and abuse experienced during childhood. Dr. Stolinsky's book, Healing from Childhood Abuse, is a self-help book published by Praeclarus Press, which identifies the many ways that childhood abuse can affect abuse survivors, and offers specific guidance on how to heal. She noticed that when her clients had difficulties feeling and releasing emotions, such as sadness, weakness, or fear, they often relied on alcohol or drugs to help them cry in a scene or "feel"; playing "at it" or faking it rather than really feeling it. They were often afraid that releasing true emotions because they believed that they would be dangerous. They held back or experienced stage fright. They felt embarrassed, fearful of revealing themselves, and shame. By identifying dysfunctional patterns that they may have developed during childhood, they can began the process of overcoming their pasts and healing from the legacy of their childhoods.
Stefanie Stolinsky, Ph.D. is a clinical and forensic psychologist who has a private practice in Beverly Hills, California. She began her career at UCLA, where she did original research on adult women sexually, physically and emotionally abused as children. She is a noted speaker and has held training seminars on Overcoming the Aftereffects of Child Abuse. She lives with her husband, David, a retired physician, in Los Angeles.
Praeclarus Press is a small press specializing in women's health. It is owned by health psychologist Kathleen Kendall-Tackett, PhD, IBCLC, FAPA, and is based in Amarillo, Texas. Praeclarus Press features books, webinars, and other materials on all aspects of women's health. Our goal is to produce materials that change people's lives.