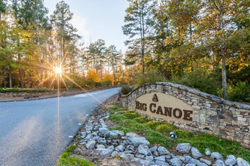 Big Canoe's ISO ranking is a very important upgrade for current and potential residents of this Georgia mountain community, and Big Canoe is rightly very proud of this improvement.
Bluffton, SC (PRWEB) April 20, 2016
Southeast Discovery client community Big Canoe, a master-planned resort and residential community in Jasper, Georgia, has successfully upgraded its Insurance Service Organization (ISO) rating of 4 to 3 effective June 1, 2016.
"A major factor in determining insurance premiums is the level of fire protection," according to Marian Schaffer, founder of Southeast Discovery, a real estate consulting firm specializing in guiding Baby Boomers with their real estate needs in the niche markets of retirement, relocation and second homes in the Southeast region. "Most insurance carriers use ISO standards to assess the level of fire protection available and therefore establish insurance rates," Schaffer adds.
The purpose of ISO is to give insurance companies a uniform system on which to base their insurance premiums. ISO rankings are from one through ten, with one being the best protection and ten being the worst. For an insurance company, knowing the capabilities of a fire department is critical to assess potential claims. The better the fire department, the better protected a building is from fire damage and loss which means fewer claims. Fewer claims lead to a lower cost for the insurance provider.
Only 3.6 per cent of fire departments in the nation are an ISO Class 3 and Big Canoe fire department is one of just 4.4 per cent of the fire departments in Georgia that are an ISO Class 3. All residences in Big Canoe are within five road miles of a fire station and within 1,000 feet of a water supply.
A fire department must have or meet the following criteria to achieve an ISO ranking of 3:

Enough pumper capacity to suppress a fire in any building in the community
A 24-hour central dispatch for contacting all firefighters on duty via pagers
A fully-equipped reserve apparatus
A minimum number of firefighters on active in the department to respond to alarms
Firefighter training must greatly exceed minimum standards of training
A definitive, reliable, and pressurized water supply for the fire department and community
Conduct annual tests on pumper trucks, hoses, and hydrants
Perform annual fire code building inspections
"It has been our observation at Southeast Discovery that Big Canoe has employed a continuous improvement process since its foundation over 40 years ago and has been recognized on many occasions for its land and community planning," says Schaffer. "Big Canoe's ISO ranking is not glamorous but, nonetheless, is a very important upgrade for current and potential residents of this Georgia mountain community, and Big Canoe is rightly very proud of this improvement."
About Southeast Discovery
Since 2004, Southeast Discovery has been a trusted resource for candid information and insight on communities, developments, and general real estate in the Southeast. Through its highly-ranked web portal, newsletter and blog and its one-on-one work with clients, Southeast Discovery helps buyers actively looking for a retirement or second home in the Southeast navigate the process of identifying the right area and community for their needs. To learn more, visit http://www.southeastdiscovery.com/.