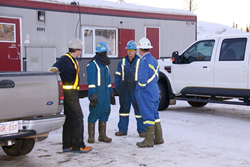 "One of the things I have seen in my (workplace) career is no matter where people work or what they do, people have challenges in life," Chaplain Seeon Smith.
Plano, Texas (PRWEB) April 21, 2016
Marketplace Chaplains Canada Experiences Unprecedented Growth, Hires Full-time Leader
Marketplace Chaplains, North America's largest and original workplace chaplaincy organization, continues its aggressive Canadian growth strategy as it expands into multiple cities and provinces.
Seeon Smith, a five-year workplace chaplain veteran for Marketplace Chaplains Canada who has served since 2011, has been hired full-time to oversee this unique, growing workplace chaplaincy service in the country. Marketplace Chaplains Canada provides a personalized and proactive employee care service through the use of care teams assigned to help employees with personal problems and crisis events 24/7.
"There is a tremendous growth opportunity for Canada," said Smith. "One thing I have seen in my career is that no matter where people work or what they do, people have challenges in their life."
Currently, Marketplace Chaplains through its Canadian operations, is serving 17 companies spread across 87 locations in scores of cities and 4 provinces with a fifth one coming on board soon. Marketplace Canada operations were opened in 2009 when $150,000 was donated to launch the work in this sprawling country.
Today, Smith, located in Edmonton, is leading, directing, and overseeing the service for Marketplace Canada's largest client across three provinces. This significant company is Cashco Financial with headquarters in Edmonton, Alberta. It has three subsidiary companies employing 425 workers in 59 locations throughout Alberta, British Columbia, Saskatchewan, and Ontario. Chaplain Smith said Cashco is one of the fastest expanding corporations in Canada with the company planning to have 250 locations in the next 4 years.
"This is a great day for Marketplace Chaplains Canada and our service in that marvelous country," said C.G. Maclin, President of Marketplace Chaplains International. "Seeon Smith is one of our finest chaplains and laborers. We are pleased he has accepted this new position and trust him in mighty ways to share care and concern for all."
Smith has been a nationalized Canadian citizen for 29 years, after immigrating in 1987 from British Guyana in South America. He has been married to his wife Debbrah since 1995, and they have four children, three boys and one girl. He and Debbrah met in church and they have been serving together for decades now. This chaplain is a graduate of Northeast Bible College, now Vanguard College, in Edmonton, Alberta. He is well rounded with secular work experience in retail, insurance, and management.
"I worked at Sears Canada and many other places in my business career and I know having someone neutral I could talk to about my problems would have been very nice," Smith said. "Often I felt very frustrated in my job because I had nobody to talk to."
Others that use Marketplace Chaplains are Troyer Ventures and many other companies scattered across Western Canada. "Having a chaplain's presence and someone our employees can talk with on a caring, confidential basis has been a huge help to our companies," said Steve Troyer, President of Troyer Ventures. "It's been one of the best business decisions I have made."
Canada is Marketplace's largest location outside the USA and has more chaplains serving employees in companies than in any other foreign country.
"While needs in the workplace are worldwide, Canada and many visionary CEOs represent a growth opportunity for this unique service," said Doug Fagerstrom, Executive President and CEO for Marketplace Chaplains.
Marketplace Chaplains was founded in 1984 in Dallas, Texas, and has since spread to 46 states in the US, along with locations in Canada, the UK, Mexico, Puerto Rico, China and Korea.
For more information on this unique employee benefit which has been featured with Marketplace Chaplains on CNN, NBC Nightly News, and in the Washington Post, the New York Times and Bloomberg BusinessWeek, visit http://www.mchap.ca.
About Marketplace Chaplains
To arrange an interview with a Marketplace Chaplain, contact Art Stricklin, Vice President Public Relations, at artstricklin(at)mchapusa(dot)com or call 1-800-775-4400.