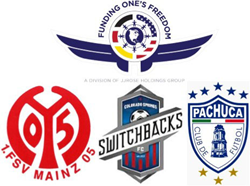 "I am delighted to partner with Funding Ones FREEDOM to bring this major soccer event to Colorado," said Hague, Co-Founder of Aegis Enterprises, Partner of WC&P and Chairman of the Board of Froozer.
Denver, CO (PRWEB) April 21, 2016
Local prominent businessman and philanthropist, Des Hague, teams up with Justin J. Rose, Owner of Germany's JJR Consulting GmbH and Founder of Funding Ones FREEDOM to bring international soccer event to CO this July. As part of the events which are meant to raise awareness for soccer, an international sport which is played by 250 million players in over 200 nations, making #soccer the world's most popular sport, there will be festivities including a 'Celebration of Soccer Week' to be concluded by the 1st Annual Colorado Cup 2016.
Participating in various events will be German Bundesliga Team FSV Mainz 05, Mexican Team Pachuca FC and US Team Colorado Springs Switchbacks. The 'Celebration of Soccer Week' will include youth soccer camps in Colorado Springs and Vail, a Youth All Star Girls Game and a Youth All Star Boys Game. In addition, Mainz 05 will be playing the Switchbacks followed by Pachuca FC for Colorado Cup 2016.
"Colorado Cup 2016 and Funding Ones FREEDOM will greatly benefit from Des' passion for giving back and helping others, his years of experience and know how, and his attention to detail and making things happen successfully," said Rose. "I am looking forward to building a great partnership locally, nationally and internationally," concluded Rose.
"I am delighted to partner with Justin and Funding Ones FREEDOM to bring this major soccer event to Colorado," said Hague, Co-Founder of Aegis Enterprises, Partner of WC&P and Chairman of the Board of Froozer. "It is not every day you get professional teams from Europe and Latin America playing in your backyard. This is special and I am glad to lend my support."
The Hague/Rose partnership will be kicked of this weekend with the Froozer®-sponsored (http://www.Froozer.com) Funding Ones FREEDOM German Soccer Experience (April 24th - May 1st). 13 Colorado/New Mexico youth soccer players and 8 adults will travel to Mainz, Germany for a 7-day German Soccer/Education/Culture Experience.
FUNDING ONE'S FREEDOM is a for profit, social enterprise which partners with businesses and people to raise funds needed to inspire the youth by instilling F.R.E.E.D.O.M. from within. Proceeds from events like the Colorado Cup 2016 go towards FUNDING ONE'S FREEDOM. The Colorado Cup 2016 will provide money to various soccer associations and clubs for their development and help sponsor youth soccer camps and international exchange programs. FUNDING ONE'S FREEDOM has helped foreign exchange students, youth soccer teams and individual soccer players and will continue to provide future funding for children and people striving for F.R.E.E.D.O.M. (Fitness, Responsibility, Education, Experience, Determination, Opportunity and Mindset). (http://www.fundingonesfreedom.com/).
CONTACT INFORMATION for FUNDING ONE'S FREEDOM:
Justin Rose - US CELL: 720-397-9597 INTERNATIONAL: +49 (0)162 345 30 63
justin(at)jjrconsulting.de
About Des Hague
A renowned executive with over twenty-five years of leading global public and private companies, Hague has established himself as an innovative thinker in the international business world. His forward-thinking approach pushes companies toward sustainable growth, granting them a position as resilient competitors within their respective industries. His past positions include President of Safeway Inc., President of IHOP, President of Hot Stuff Foods LLC, Vice President of 7-Eleven Inc. and, most recently, President/CEO of CenterPlate Inc., the largest event hospitality company in North America. Hague is also the Co-Founder of Aegis Enterprises, a Colorado-based advisor and investment company, focused in multiple sectors. In addition, Hague serves on the boards of DVETelepresence, PING HD, WC&P, Lessons For Life, World of Beer, Halls Cheese, Serenity Spa and Salon and the Stamford Youth Foundation along with advising on several start-up ventures.
Along with his professional projects, Hague contributes significant amount of time and energy to non-profit charitable work. Hague has helped raise more than $100 million over the past few years for many non-profits, including the Stamford Youth Foundation, a local organization offering multiple after-school programs for young people, and The Journey Home, a Baltimore-based Foundation fighting homelessness. Hague views Aegis Enterprises, LLC as a perfect blending of business and philanthropic activities.
For more about Des Hague, visit: http://deshague.com
Des Hague - LinkedIn
CONTACT INFORMATION
DesHague.com
deshague@aegisenterprisesllc.com