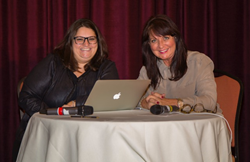 "We are at the ICC conference representing our clients on numerous proposals that improve fire and life safety, and promote energy conservation and energy production," says Vickie Lovell, President, InterCode, Inc. Add a quotable
Delray Beach, Fl (PRWEB) May 04, 2016
Building and Fire Safety is Big Business
Building fire and safety is not just big business, it's critical to the safety and health of the public at large. "Most people don't consider the materials and products that go into the construction of their home. They give less consideration to how a skyscraper or high rise condominium is constructed. They simply go about their day to day business. Our day to day business is to ensure that the buildings they live and work in are fire safe and energy efficient," says Vickie Lovell, President of InterCode, Inc. (http://www.InterCodeInc.com).
We Promote and Defend Building Product Materials for our Clients
"Every building material, product or system that goes into every type of building, large or small, must meet certain standards and code requirements. Our job is to ensure that our clients' products meet standards that benefit the public health and safety, while we also defend or promote the usefulness of the products produced by our clients," says Lovell, who has worked as an advocate, technical consultant, and published writer on behalf of some of the nation's largest public companies, trade groups and associations.
ICC Code Committee Action Hearings – The Biggest Conference of the Year
The ICC conference is one of many important events that takes place within the building industry. Of this year's event, Amanda Hickman, Manager of Regulatory Affairs, InterCode Inc., points out that, "This year's ICC Committee Action Hearings offer us an opportunity to provide input on proposed code changes to the 2018 Edition of the International Codes. We participate in the process which allows us to present our point of view to a panel of subject matter experts, such as code officials, architects, builders, engineers, designers and plumbing, mechanical and energy conservation professionals who make recommendations to improve the codes."
Interested Parties and Stake Holders Provide Input to More than 2,200 Proposed Code Changes
"We are here at the ICC Conference representing our clients on numerous proposals that improve fire and life safety, and promote energy conservation and energy production," says Lovell. The purpose of the Committee Action Hearings is to permit interested parties and industry stakeholders to present their views, including the cost and benefits, on over 2,220 code change proposals. "The importance of this conference can be seen in its length," says Lovell. "The ICC Conference meets for 12 days and is the heartbeat of the entire construction industry. What happens here has serious implications for builders, developers, cities and the tens of millions of people who occupy these buildings around the country for decades to follow."
InterCode Inc. Presents Clients' Projects to Technical Committees
The InterCode team participated in numerous lively debates by providing testimony regarding residential and commercial energy conservation and production, and fire and life safety issues. Technical Committees, comprised of subject matter experts, then make a decision to either approve or disapprove of the proposed code change, based upon the testimony of both proponents and opponents. The outcome on each issue will be determined in a final vote by eligible International Code Council Government Voters in the fall of 2016. "These presentations are critical," says Lovell "and have long-ranging consequences; the decisions from the final votes will form the revised content of the 2018 Edition of both the International Energy Conservation Code and the International Fire Code."
About International Code Council
The International Code Council is a member-focused association dedicated to developing model codes and standards used in the design, build and compliance process to construct safe, sustainable, affordable and resilient structures. Most U.S. communities and many global markets choose the International Codes. The International Codes®, or I-Codes®, published by ICC, are a complete set of comprehensive, coordinated building safety and fire prevention codes. Building codes benefit public safety and support the industry's need for one set of codes without regional limitations. Fifty states and the District of Columbia have adopted the I-Codes at the state or jurisdictional level. Federal agencies including the Architect of the Capitol, General Services Administration, National Park Service, Department of State, U.S. Forest Service and the Veterans Administration also enforce the I-Codes as do an extensive number of branches/divisions of the United States military.
About Vickie Lovell/InterCode Incorporated (http://www.InterCodeInc.com)
Vickie J. Lovell is the President of InterCode, an independent consulting firm located in Delray Beach, Florida. For 30 years, InterCode has provided representation and advocacy to companies and trade associations whose materials or products are affected by building codes and standards. InterCode Inc clients include some of the largest companies and trade associations in the country, such as 3M Company, the Leading Builders of America, the National Greenhouse Manufacturers Association, the Modular Building Institute, the Reflective Insulation Manufacturers Association International, the Air Movement and Control Association International, the International Window Film Association, the International FireStop Council, Fire Safe North America, and dozens of other organizations. InterCode Inc. develops customized code development campaigns to create new requirements, or defend existing requirements in various arenas impacting building, fire, energy, and mechanical codes. InterCode also provides technical writing services, strategic planning, product and market forecasting, and product commercialization.
Media Contact Info:
Jeff Mustard, jeff(at)thebambooagency(dot)com | 954-801-8263 | http://www.TheBambooAgency.com
InterCode Inc., Vickie Lovell, President | 561-278-0922 | http://www.InterCodeInc.com | info(at)intercodeinc(dot)com