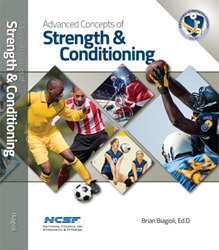 "I have been involved in strength and conditioning for almost thirty years at both the Division I and Professional level. This is the most relevant information I have seen to help an athlete reach their potential" Jay Sabol, Miami Heat.
(PRWEB) April 20, 2016
The National Council on Strength and Fitness (NCSF), a leading credentialing body for exercise professionals, is pleased to announce the release of the much anticipated Advanced Concepts of Strength and Conditioning textbook. The resource provides professionals and coaches with a systematic process of identifying physical limitations, implementing strategies to optimize movement proficiency, and directing cutting edge techniques to maximize human performance. The text, and its supportive materials, including online instructional videos consisting of hundreds of training drills, is the first to focus on developing "athletes" instead of generating weightlifters.
Advanced Concepts of Strength and Conditioning applies research validated methodology to the development of physical excellence. The text provides the latest science to maximize adaptations in a manner that challenges the historical applications of traditional strength programs. It provides details on calculating training velocities for speed programming, volume and technique specificity for conditioning athletes of different sports, and sport-specific techniques to maximize power using Olympic and plyometric training. In addition, it offers advanced application in creating a functional musculoskeletal system to optimize movement proficiency with reduced risk for injury which is applicable for athletes and fitness enthusiasts of all ages.
The Advanced Concepts of Strength and Conditioning textbook is the centerpiece to a larger educational program that culminates in the NCSF Certified Strength Coach credential. "While the text is ideal for college and university programs to help aspiring students achieve success in the field of strength and conditioning, it is also a perfect selection for sports coaches to learn what their athletes should be doing in order to succeed in their chosen sport" says Paul Garbarino, NCSF Director of Operations. "The program addresses the ever important need to lower the risk for injury and successfully develop the traits that allow an athlete to move to the next level."
For a content and chapter preview, click here to learn more about the Advanced Concepts of Strength and Conditioning textbook
About the National Council on Strength & Fitness
The National Council on Strength and Fitness is a member-driven, education and accredited credentialing organization for exercise professionals. The NCSF provides valid certification and advocacy for exercise professionals, and promotes community health and public engagement in physical activity. NCSF exercise professionals holding NCCA-accredited credentials in good standing can be found on the United States Registry of Exercise Professionals (USREPS). For more information about the text and how it may be utilized at your institution, please contact Sean Grieve, NCSF Director of Education Services at sgrieve(at)ncsf(dot)org