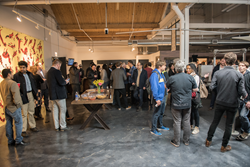 To be able to be part of this celebration of not just 25 years of Pigface but of awesome memorabilia that all had such cool stories behind them was amazing. Great vibes and great people came together.
Chicago, IL (PRWEB) April 26, 2016
An art exhibition celebrating the 25th anniversary of 'Pigface', an iconic industrial rock super group led by current Program Chair Martin Atkins has been developed by the graduating Music Business Program class at SAE Institute Chicago.
The exhibition, developed as the students' final project, launched on March 31, 2016, at Chicago's new creative incubator, 2112 Inc. Studios, was followed by a reception.
Pigface25 reflects the band in a spirit of collaboration and creative expression. The exhibition features over 50 pieces of stunning visuals - artwork representing a full retrospective of the band's handmade, custom scenery spanning 18 albums and 12 tours, including a piece of Martin Atkins' stage wear - the first punk suit created by Oscar-winning designer Sandy Powell, as well as the famous flies that occasionally showed up on his outerwear. In addition, the showcase features a sculpture from the 1994 album 'Notes from Thee Underground', an interactive photo wall, strikingly impressive sculptured wall-art from artists associated with AMC's hit cult show, 'The Walking Dead', and art from Newcastle Brown Ale.
The Pigface25 culminating project provides the graduating class the opportunity to practice their marketing, event planning and project management skills- preparing them to face the real world head-on, as well as the chance to meet potential employers.
"This culminating project is energizing for myself and faculty but, more importantly an entry into the real world for students. The current installation at 2112 here in Chicago has provided them with the opportunity to not just practice the art of marketing and event management - but to meet potential employers in a low stress environment and hang out in a magical incubator where the person you collide with in the corridor today could be the person you partner with on a new start-up tomorrow" Martin Atkins said.
Tracy Tiongson, project manager and an SAE Institute student shared his thoughts on the memorable event. "To be able to be part of this celebration of not just 25 years of Pigface but of awesome memorabilia that all had such cool stories behind them was amazing. Great vibes and great people came together."
This is the fifth SAE Institute Chicago Music Business Culminating Project. Each capstone project emulates real world scenarios, which provides graduating students the opportunity to collide with the real world-head-on and hands-on. Previous projects included a studio takeover, a mobile concert atop a double decker bus across Chicago, and an EDM set inside Chicago Transit Authority train cars on the Brown Line.
The history of iconic musical collective, Pigface25 will be on display March 31 through May 5.
About SAE
SAE Institute provides aspiring creative media professionals with a foundation of practical theory and valuable hands-on training in their chosen areas of concentration. Under the guidance of our faculty, which is comprised of working industry professionals, students gain the essential experience they need for entry-level jobs in the entertainment business. Our students are supported in their job searches by SAE's international network of alumni, many of whom are leaders in the music, film, game arts, and live performance arenas. We offer programs in audio technology across our seven US campuses, along with a music business program at select locations, all fully accredited and focused on preparing students for employment when they graduate. Bachelor's Degree programs in Animation, Audio, Film, Game Art & Graphic Design are available at the two locations of Ex'pression College, which is owned and operated by SAE Institute Group, Inc. SAE Institute Group, Inc. is a part of Navitas LTD. Learn more at usa.sae.edu.
About Navitas
Navitas is a global education leader, providing pre-university and university programs, English language courses, migrant education and settlement services, creative media education, student recruitment, professional development, and corporate training services to more than 80,000 students across a network of over 120 colleges and campuses in 31 countries. Learn more at Navitas.com.