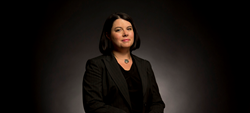 "Regardless of the project's scope and scale, I bring enthusiasm for what the project can become and mean for our clients and their patients." Laura Morris, CHID, LEED AP BD+C, IIDA, Lean Green Belt
Philadelphia, PA (PRWEB) April 26, 2016
As the firm continues to grow, it became apparent that a seasoned leader was essential to manage the integral role Array's interior designers play across all regions. "Promoting Laura, who joined the firm in 2012, provides a new level of direct mentorship as well as the proper oversight of Array's design staff as work increases at Array's eight offices," noted Carl Davis, Array's CEO. "We recognized Laura intrinsic value and specifically, the creativity she brings to all projects. Laura's positive influence on our staff can be seen in the strong design culture within our studios," added Patricia Malick, CHID, EDAC, NCIDQ, Lean Green Belt, Array's Practice Leader for Interior Design.
Laura, a graduate of Texas Tech University's Department of Design, designs interior spaces with a goal of combining both healthcare planning and unique design solutions. Laura's healthcare design experience spans over a dozen years and across all service lines. Laura's current endeavors include a 200- bed greenfield hospital, pediatric ambulatory care centers, a cancer research center, and emergency department renovations. As a LEED Accredited Professional who has been involved with designing LEED Gold healthcare facilities, Laura works with clients to select durable, environmentally-friendly finishes that contribute to healthier interior environments, energy efficiency and waste reduction. In Laura's blog, many facets of healthcare interiors are covered, including an in-depth video regarding the importance of flooring choices in hospitals.
Laura is a frequent conference speaker and current board member of the American Academy of Healthcare Interior Designers. Her involvement in national and regional conferences, as well as board leadership allows Laura to share her knowledge to a wider audience. She is adept at guiding clients through successful visioning and empathy mapping exercises to solicit important feedback from users early-on during each project's Discovery phase.
Array is recognized as a leader in healthcare facility planning and design, offering a full complement of knowledge-based services including planning, architecture, interior design and asset advisory from our eight office locations. Our design process uses Lean as a foundation for a unique Process-Led approach that better meets the needs of today's healthcare organizations. Array's devotion to a healthcare-exclusive practice springs from our belief in the power of design to improve patient outcomes, maximize operational efficiencies, increase staff satisfaction and provide remarkable results for our clients.