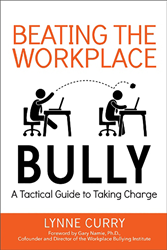 Some say bullies can't change. That's not true. Bullies can change - but sometimes they won't.
Anchorage, Alaska (PRWEB) April 20, 2016
We can't discipline bullies because we can't define bullying.
"That's totally untrue," says Curry. "Bullying is psychological violence. A bully repeatedly, intentionally humiliates and intimidates others through verbal, physical or situational bullying."
"Verbal bullying includes ridiculing, insulting, name-calling or slandering. A bully makes others the butt of mean jokes and abusive, offensive remarks. Physical bullying can include assault or the threat of physical assault; the making of obscene gestures or pushing, shoving, kicking, poking or tripping the victim. Situational bullying entails deliberate humiliation or sabotage."
Can bullies change their ways?
"Bullies can change – but sometimes they won't," says Curry.
"Bullies can turn it on or off bullying behavior, and many of us have seen that. In organizations, bullies kiss up and kick down, presenting a charming, often subservient facade to senior managers and displaying arrogant, attacking or intimidating behavior toward peers," says Curry.
"Similarly, in families, a bully may abuse his or her spouse, yet treat his or her children well, as the bully considers the children an extension of the bully."
According to Curry, "Bullies don't bully those who gratify their egos, who can give them something they want or help them succeed or those who are extensions of the bully, such as their children. In other words, bullies choose who and when to bully."
"Instead, if you learn how bullies make choices, you can act to change the bully's behavior," says Curry. "Bullies operate according to a risk/benefit ratio. If you can convince a bully they risk more than they win by bullying, they may choose to stop – or leave for a more bully-friendly environment. Senior management thus has the power to convince a bully to change when they say "We value you as a hard-charging manager, but we won't let you keep stomping on our code of conduct."
The Growth Company, Inc. is a Human Resource Management consulting firm specializing in soft skills training, facilitation and mediation as well as investigations, coaching and manual/policy write ups and re-writes. Established in 1978, The Growth Company, Inc., is one of the longest lasting consulting firms in Alaska. For further information about The Growth Company or Dr. Lynne curry, click here or visit http://www.thegrowthcompany.com
The Growth Company also hosts the Workplace Coach Blog, where Dr. Lynne Curry and other HR professionals post about everyday situations that a manager or supervisor may come across. They provide insight on how to approach and handle these situations.
Order your copy of Beating The Workplace Bully here! *enter "Bully Book" in the comments at time of purchase.