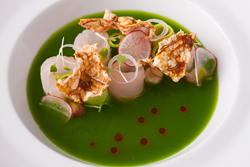 Epicurean Mexican Dining with Paired Premium Tequilas - the Ultimate Cinco de Mayo Celebration
Dallas, Texas (PRWEB) April 19, 2016
The Fearing's culinary event of the year will take place this May 5, as the Dallas restaurant hosts famed Chef José Meza Arróyave of AAA Five Diamond rated Restaurant Carolina at Mexico's St. Regis Punta Mita Resort. Chef Meza will present a multi-course Mexican fine dining menu, paired with premium tequilas from Patrón, and offered in addition to Fearing's regular dinner menu.
José Meza's contemporary approach to Mexican cuisine enhances traditional dishes with modern twists, while still maintaining the integrity and depth of his authentic flavors. He is celebrated throughout Mexico for his use of modern techniques and cultural purity as he pushes the boundaries of fine Mexican cuisine.
Patrón Spirits will be on hand that evening as well, presenting optional tequila pairings to accompany each course of José Meza's dinner menu. Also on May 5, the restaurant's Rattlesnake Bar will celebrate Cinco de Mayo with a seasonal new Meyer Lemon Margarita, created with Fearing's rare Barrel Select añejo tequila -- a one-of-a-kind co-creation of Fearing's Restaurant and Patrón.
Fearing's Cinco de Mayo dinner menu will be offered from 6 p.m. on Thursday, May 5. To ensure seating, please reserve early at 214-922-4848. The Cinco de Mayo menu may be viewed below.
What: Epicurean Mexican Dining & Tequila Experience with Mexico's Chef Jose Meza and Patrón Spirits
Who: Chef Dean Fearing & Chef Jose Meza of Restaurant Carolina at the St. Regis Punta Mita Resort
When: Thursday, May 5, 2016, from 6 p.m.
Where: Fearing's Restaurant, 2121 McKinney Avenue, Dallas, TX 75201
Price: $150 + tax/gratuity (add $45 for paired Patrón tequilas)
Reserve: 214-922-4848
Menu
First Course
Botana- Quesadilla
These traditional bites are typically served prior to enjoying a Mexican feast. Jose Meza´s quesadilla is composed of crunchy blue maize filled with artisan Oaxaca cheese, presenting a small yet full variation of flavors in one bite.
Second Course
Ceviche de Pozole Verde
Two traditional dishes are blended flawlessly, utilizing contemporary techniques and created with the catch of the day enhanced by cacahuazintle (heirloom white maize) and fresh avocado.
Third Course
Carne Asada
In homage to a typical Mexican barbecue, Chef Meza's Carne Asada features a delicious beef filet bathed in a fragrant black sauce and served with nopales, organic cheese and guacamole. Best enjoyed with handmade tortillas.
Dessert
Arroz con Leche
Not your grandmother's rice pudding! Chef Meza deconstructs this Mexican classic by playing with its unique textures. Served with cinnamon crisps and artisan vanilla bean ice cream, this decadent sweet is a true delight to the senses.