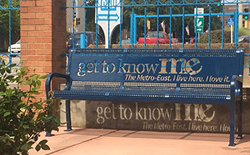 Because where better to strike up a conversation with someone than on a bench? We need to learn to put down the phones and have more conversations
Chattanooga, TN (PRWEB) April 28, 2016
The "Get to know m.e.- The Metro-East. I live here. I love it." campaign is an initiative that began in June of last year to bring the Metro-East community together. The Metro-East includes the eastern suburbs of St. Louis, Missouri. This area has grown substantially due to greater job opportunities, so the mission of the campaign is to provide a platform for this ever growing community to get to know their neighbors.
The campaign staple is a uniquely designed, bright blue, steel bench that is imprinted with the campaign slogan, "Get to know m.e.- The Metro-East. I live here. I love it.", these benches were manufactured by, UltraSite a PlayCore company, which is actually located within the Metro-East in Red Bud, IL. This was a great partnership, not only did it cut out shipping expenses, but it further demonstrated the theme of getting to know your neighbors.
"Because where better to strike up a conversation with someone than on a bench? We need to learn to put down the phones and have more conversations" – Carol Bartle, Get to know m.e., Project Manager
This campaign was a huge success in 2015 raising $16,000 dollars in scholarships given to local students and donating a total of 40 benches throughout the community. The team is kicking this year off strong with 10 benches in the works and hopes of gaining more bench sponsorships as the year progresses. The campaign also has very high expectations in beating their scholarship funds given last year!
The Get to know m. e. campaign just announced they will be hosting a contest at the Art on the Square Festival in May where they will be giving away one of these benches. The bench will then be donated in the winner's name to the location of their choice. Make sure to visit the campaign booth at the art festival for your chance to win!
About UltraSite
UltraSite™ a PlayCore company, has been manufacturing high-quality commercial grade outdoor recreation products including a variety of Site Furnishings, Park Amenities, Picnic Tables, Park Benches, and Outdoor Fitness Equipment for over 15 years. Learn more at http://www.ultra-site.com.
About PlayCore
PlayCore helps build stronger communities around the world by advancing play through research, education, and partnerships. The company infuses this learning into its complete family of brands. PlayCore combines best in class planning and education programs with the most comprehensive array of recreation products available to create play solutions that match the unique needs of the each community they serve. Learn more at http://www.playcore.com