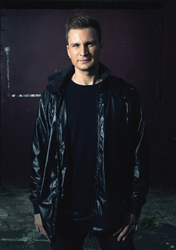 MaRLo's tech-energy style has taken some American club and festival audiences by surprise.
New York, NY (PRWEB) April 20, 2016
Winter at long last gives way to spring across the Northern hemisphere and, escaping his home country of Australia's impending winter not a moment too soon, internationally recognized trance and techno DJ and producer MaRLo embarks on these shores. MaRLo's spring 2016 North American tour kicks off now.
As a long-recognized champion of the sub-genre of electronic dance music known as trance, MaRLo's darker side reveals a passion for the harder-hitting, faster-BPM style of trance that he's dubbed 'tech-energy.' Characterized by brutal, blistering basslines and a relentlessly swirling energy not seen outside of violent acts-of-nature, MaRLo's tech-energy style has taken some American club and festival audiences by surprise. Within moments of experiencing MaRLo's unafraid sonic snarl and delectably assaulting beats, audiences are wholeheartedly won over, powerless to resist the draw of his music's raw magnetism. MaRLo's performance spectacle is a modern-day glory to behold.
Confirmed tour dates for MaRLo's spring 2016 North American tour are as follows:
April 22 Exchange Los Angeles, CA (U.S.)
April 23 Texas Motor Speedway Fort Worth, TX (U.S.)
May 6 Harbour Event Center Vancouver, BC (Canada)
May 7 WaMu Theater Seattle, WA (U.S.)
May 12 Stereo Live Houston, TX (U.S.)
May 13 Fly 2.0 Toronto, ON (Canada)
May 14 Citifield New York, NY (U.S.)
May 20 Ruby Skye San Francisco, CA (U.S.)
May 22 Le Beach Club Montreal, QC (Canada)
June 25 Soundbar Chicago, IL (U.S.)
MaRLo (real name: Marlo Hoogstraten) is a Dutch-born electronic dance music producer from Australia. His unique style – affectionately dubbed "The MaRLo Sound" – derives from the sub-genres of tech-trance, hard-trance and the big room sound. MaRLo considers as his musical influencers such accomplished fellow DJs and producers as Armin van Buuren, Aphex Twin and The Prodigy. In the recording studio, MaRLo has lent his magic touch to remixes for fellow trance heavyweights, Armin, Dash Berlin, Ferry Corsten, W&W and Gareth Emery. As a live performer, MaRLo delivers explosive physical energy and showmanship. MaRLo is best known for his international hits, "Haunted" featuring his wife, the vocalist Jano, and "Atlantis," the latter peaking at the #1 chart position on Beatport last year. But perhaps the track for which MaRLo is most instantly defined in the eyes and ears of today's youth is his original production, "Visions," a monstrous thriller released in 2012. Armin himself commented that, "MaRLo knows how to program the best lead sounds."
For more information on MaRLo, Andrew Rayel, Thomas Gold, Giuseppe Ottaviani, Sylvia Tosun, Lil Nate Dogg, Traveler, Underground Sol, DJ Otiago and artists like Armin van Buuren contact EMILY TAN Media Relations (U.S.), +1(917) 318-3758, EmilyEmilyTan(at)aol(dot)com. Follow EMILY TAN Media Relations on Twitter @EmilyEmilyTan and LinkedIn http://www.linkedin.com/pub/emily-tan/4/342/70b.