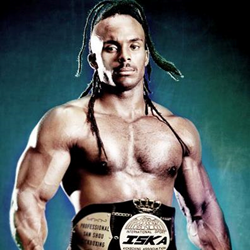 When the wrong decision is the only choice you have, you either become the bad guy or lay down and die. Which would you do?
St. Louis, MO (PRWEB) April 21, 2016
Jermaine Andre' has released his autobiography, "Muay Thaiger – Death Vow of Life" which tells the raw and unfiltered stories that ultimately transformed him from menace to Master Chief. Jermaine's trial-by-fire, which led to his redemption, is riddled with memories of street fights armed with axes and shovels, shoot-outs and battles with guards in prison. Although Jermaine is a peaceful warrior now, his story is replete with uncanny experiences that included blessings and peace rituals with Native Americans, training and breaking wild horses, as well as side by side dealings with members of the Aryan Nation, BGF, Bloods, Crips, AIM, Mexican, Italian Mafia and convicted killers.
Jermaine's year in solitary confinement allowed him to not only find himself, but help others find themselves as well. Years in prison including a full year spent in solitary confinement led to a strict adherence to the "Martial Code"– not for survival, but peace of mind. This newfound self-mastery elevated Jermaine to an unprecedented position of leadership amongst the other inmates both voluntarily and by recommendation of prison officials.
Mr. Andre's turnaround of himself and other solitary confined inmates was so impressive, that the Warden allowed him to start a martial arts school on the maximum security yard for any troubled inmates interested in what the martial arts could do for them. Jermaine went further allowing even prison guards to join as long as they adhered to a strict code of discipline and respect for others aptly named "Muay Thaigers". They trained vigorously daily in weight lifting, calisthenics and brutal bare-knuckle Muay Thai fighting. When Jermaine was released from prison in 1996 he carried the discipline and dream of all of the Muay Thaigers to the professional MMA cage & Muay Thai ring where he went on to became a 5x U.S Champ, 2x World Champ, UFC Vet & Hall of Famer.
In Muay Thaiger there are countless encounters that will shock readers and impart lessons of responsibility, trust, accountability, and demonstrate the power of the spiritual path. Jermaine Andre' is now open for interviews. Please contact Andre's Academy to book him.
636-866-8096 JermaineAndre.com.
###