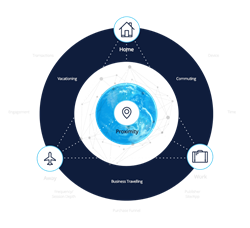 The addition of Placed Attribution and Placed Revenue helps us bridge the gap between online engagement and real-world purchase behavior to help our clients truly own their most meaningful mobile moments.
New York, New York (PRWEB) April 20, 2016
In order to better understand and capitalize on consumers' path to purchase, Go2mobi has leveraged the rapidly growing concept of "mobile moments" with a proprietary technology called MomentMatch™. Go2mobi's partnership with Placed, takes MomentMatch™ reporting a step further, allowing them to attribute in-store visits and revenue, directly to the mobile moment messaging that drove the real-world engagement.
MomentMatch™ uses first-party, mobile-originated location data tied to personified device ids to break down consumers' mobile life map into five core, consumer specific locations: home, work, commuting, out and about, and travelling. Then by layering on variable moment factors, such as POI proximity, local time, digital context, weather and local events, Go2mobi is able to target each moment on its own terms, dynamically serving custom creative that reflects the moment in order to drive increased engagement.
Tom Desaulniers, Go2mobi Co-founder and President commented, "We see MomentMatch™ as the logical evolution of our mobile advertising platform, which is based on the idea that a granular understanding of data can provide meaningful lifts in performance. By categorizing and contextualizing real-time moments tied to specific device id profiles, we're able to process consumer behavior at a very granular, individualized level." He added "the addition of Placed Attribution and Placed Revenue helps us bridge the gap between online engagement and real-world purchase behavior to help our clients truly own their most meaningful mobile moments."
David Shim, Founder and CEO of Placed states, "Go2mobi's unique moment approach combined with Placed Attribution delivers a closed loop solution to truly measure ROI both on and offline. Go2mobi's understanding of the moments that drive engagement, are now quantified with Placed Attribution, enabling advertisers to understand the mobile moments that matter when driving consumers into the store and purchasing."
Go2mobi's Placed integration is notable because it leverages the real-world aspect of Placed's Attribution in a synergistic fashion with its own real-time segmentation technology, MomentMatch™. Placed Optimization enables Go2mobi to optimize campaigns based on store visitation and revenue inflight versus post-campaign.
Go2mobi's robust MomentMatch™ reporting, which offers complete performance stats on four pre-defined "Perfect Mobile Moments" as well as on dozens of other factors such as whether engaged users are at home, at work or shopping, what other points of interest are nearby, the weather and much more, is bolstered by Placed's in-store and revenue attribution, allowing Go2mobi to close the attribution loop and to report on both online engagement and offline foot traffic and revenue metrics.
Go2mobi, which began in 2011, as a performance marketing company offering what it calls "the most performance focused self-serve mobile media buying interface available" has always put a strong focus metrics beyond simple consumer engagement or CTR, urging clients to focus on deeper funnel metrics such as install, purchase or rich media functionality such as add to calendar tap to map features. Desaulniers comments "Our integration with Placed goes well beyond traditional online metrics and allows our clients to truly see the advertising efforts that move the needle for their brands."
About Go2mobi
Go2mobi, a member of the H.I.G. Capital digital media portfolio, is a mobile advertising technology company that is changing the way brands think about mobile engagement. Go2mobi used their proprietary MomentMatch™ technology to serve dynamically customized ads, to well-targeted consumers in the moments of high receptivity. Go2mobi helps brands own the mobile moments that matter.
Go2mobi's MomentMatch™ is the real-time segmentation component to their well-established DMP that gathers trillions of mobile-originated, first-party data points, contextualizing them into over 450MM 60-day fresh, multi-dimensional consumer personas.
Founded in 2011, funded by H.I.G Capital in 2015 and headquartered in Victoria, BC with offices in New York City and Vancouver, Go2mobi is constantly creating repeat customers by producing impressive results and providing industry leading campaign insights.
Visit Go2mobi.com for more information about MomentMatch™.
About Placed
Placed Inc. is the leader in location-driven insights and ad intelligence. Measuring billions of locations across the world's largest opt-in location audience, Placed provides the most comprehensive understanding of consumers' offline behaviors. Connecting the physical and digital worlds, Placed is the industry standard currency for brands, agencies, and publishers to measure ad exposure to store visit, target location at scale, and deliver actionable insights into consumer behavior.
Founded in January 2011, Placed is headquartered in Seattle and is backed by Madrona Venture Group and Two Sigma Ventures.