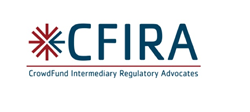 "We hope this event demonstrates the industry's recent advancements and the positive impact that Title III will have on the future of the economy and investment industry."
Washington, D.C. (PRWEB) April 20, 2016
Crowdfund Intermediary Regulatory Advocates (CFIRA), a non-profit that works to help establish rules, industry standards and best practices in the crowdfunding industry, has today announced the Crowdfunding Showcase and Celebration, in partnership with Crowdfunding Capital Advisors (CCA) and the Small Business & Entrepreneurship Council (SBE Council). The event, to be held on May 16, 2016 in the U.S. Capitol Visitor Center, will highlight innovative crowdfunding technologies and celebrate Title III of the JOBS Act coming into effect, which will open the private securities market from only a select few accredited investors to all who wish to participate.
This groundbreaking event aims to recognize the momentous day by bringing together and honoring a wide range of stakeholders including policymakers and representatives from both the Senate and House of Representatives, regulators including the Securities and Exchange Commission (SEC) and Financial Industry Regulatory Authority (FINRA), crowdfunding industry participants, entrepreneurs, service providers and other thought leaders and influencers who have helped make the democratization of capital a reality.
"We're thrilled to be partnering with CCA and SBE Council to host the Crowdfunding Showcase and Celebration and mark the tremendous strides the crowdfunding industry has made in the past few years," said Chris Tyrrell, the chairman of CFIRA's board of directors. "We hope this event demonstrates the industry's recent advancements and the positive impact that Title III will have on the future of the economy and investment industry."
Commencing with the D.C. Demo Day, attendees will have the opportunity to hear from industry leaders through a panel session, keynote address and a number of technology demonstrations, followed by a more informal networking and celebratory reception.
CCA principal Sherwood Neiss said the event will show regulators, policymakers and other key stakeholders in DC how crowdfunding is being done compliantly by the best-in-class service providers.
"There is no better way to commemorate the launch of regulation crowdfunding than to showcase what smart entrepreneurs should use to assist them in being compliant with this new law," Neiss said.
Karen Kerrigan, president and CEO of the SBE Council, said the organization is proud to be assisting entrepreneurs and small businesses in the crowdfunding industry to explain and demonstrate their important work.
"The spirit and purpose behind equity crowdfunding for all was to ensure entrepreneurs and small businesses have more opportunities to access startup and growth capital. At the showcase, members of Congress, regulators and policy leaders will see how entrepreneurs can raise capital more efficiently while protecting investors more effectively," Kerrigan said. "We are very excited about the future, and the fact that Title III crowdfunding is set to go live on May 16."
The DC Demo Day will commence at 2pm in Room HVC-201AB in the U.S. Capitol Visitor Center in Washington, D.C., with the evening reception kicking off at 5pm in the same location.
Members of the media are invited to attend the Crowdfunding Showcase and Celebration. To register or arrange pre-event interviews please contact marilyn(at)leverage-pr(dot)com.
###
About Crowdfund Intermediary Regulatory Advocates
Crowdfund Intermediary Regulatory Advocates (CFIRA) was established following the signing of the Jumpstart Our Business Startups (JOBS) Act and formed by the crowdfunding industry's leading platforms, experts and supporters. The group works with the Securities & Exchange Commission (SEC), the Financial Industry Regulatory Authority (FINRA), and other affected governmental and quasi-governmental entities to help establish industry standards and best practices. For more information, visit http://www.CFIRA.org.
About Crowdfund Capital Advisors
Crowdfund Capital Advisors is a global crowdfunding consulting and advisory firm founded by Jason Best and Sherwood Neiss, the leaders of the debt and equity crowdfunding movement. CCA provides comprehensive advisory solutions for both the public and private sector. They have worked with the SEC, FINRA, crowdfunding platforms and industry leaders on shaping crowdfunding policy. They have clients in 35 countries and work with a variety of groups from professional investors, crowdfunding platforms and professional services firms to governments and entrepreneurs. They are authors of the World Bank Report, Crowdfunding's Potential for the Developing World, the top selling Amazon book on Investment based crowdfunding and creators of the online education series Success with Crowdfunding. For more information, please visit: http://www.crowdfundcapitaladvisors.com.
About SBE Council
The Small Business & Entrepreneurship Council (SBE Council) is a nonprofit, nonpartisan organization dedicated to protecting small business and promoting entrepreneurship. SBE Council focuses on strengthening the ecosystem related to policy, educational and training content, access to capital and economic opportunity. For nearly twenty-four years, SBE Council has helped to advance policies and a broad range of initiatives for small businesses and entrepreneurs both in the U.S. and across the world. For more information, visit: http://www.sbecouncil.org.