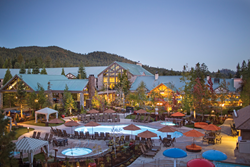 The best snowfall of the last five years is feeding spring's majestic waterfalls and summer wildflowers.
FISH CAMP, Calif.; (PRWEB) April 20, 2016
The Sierra snowpack is back, and with it come two of the most wonderful things about spring in Yosemite: waterfalls and wildflowers. But it's not just the weather that is exciting this year. The National Park Service is celebrating its 100th anniversary in 2016, and Tenaya Lodge at Yosemite has fresh spring renovations and is supporting the NPS "Every Kid in a Park" program where fourth graders and their families get VIP treatment at the park and lodge.
Just in time for celebrating the National Park Service's Centennial, Tenaya Lodge wrapped up a 240 guestroom renovation, bringing a new contemporary flair that meets the beauty of nature's elements. After a full day of adventure, guests can experience this plush retreat with Tenaya's exclusive Renovation Debut Offer which includes a free Yosemite Park Pass with every two-night stay through December 15.
To celebrate NPS' centennial, Tenaya Lodge at Yosemite is offering their NPS Centennial Package through November 1. It includes a one-night stay, commemorative souvenir and breakfast for two with midweek rates starting from $345 this spring.
As part of the NPS Centennial's "Every Kid in a Park" program, travelers with a fourth grader in the family can get a free pass to all public lands–including Yosemite–when they obtain a voucher online at http://www.everykidinapark.org and show it to the park rangers at the gate. Fourth graders, accompanied by an adult, who show their "Every Kid in a Park" pass at Tenaya Lodge, also get free admission to the popular all-you-can-eat Summerdale BBQ and a guided morning nature hike this summer, June 21 through September 3.
For families not lucky enough to have a fourth grader, free admission to Yosemite National Park is offered to everyone during National Park Week, April 18-24. The week includes Earth Day on April 22 and Junior Ranger Day on April 23.
What a year it promises to be at Yosemite with NPS Centennial and the best snowfall of the last five years feeding spring's majestic waterfalls and summer wildflowers. Horsetail and Bridalveil falls will be rushing in the valley, while Nevada and Vernal falls beckon visitors up to Glacier Point. This year's snowpack will also produce a beautiful show of flowers from poppies and Dogwoods to redbuds and wildflowers. To experience these awe-inspiring natural displays, Tenaya offers popular packages including the Yosemite Park Pass, Bed & Breakfast and Deluxe Pampered Pet packages, which can all be found online at http://www.tenayalodge.com/packages.
For the adventurous, spring brings mountain biking along beautiful trails, guided fly-fishing on the Merced River, a steam train ride through the history of the Southern Sierra on the Yosemite Mountain Sugar Pine Railroad and more. Adventure lurks around every corner at Tenaya Lodge.
Yosemite Fly Fishing, Sierra Mountain Biking, and Zipline Adventure packages are all great choices to make a family vacation one for the books. And for the thrill-seeking family, the Whitewater River Rafting package lets guests enjoy the Sierra while cruising the Merced River during April through mid-June. If a night-time trek and stargazing is more appropriate, Tenaya Lodge will help guests catch the Perseid meteor shower mid-August from the heights of Yosemite's Glacier Point.
Speaking of families, Tenaya Lodge will be celebrating the season's special holidays in High Sierra style. The landscape is awash with colorful wildflowers, setting the scene for an elegant Mother's Day champagne brunch. Combine with a luxurious spa treatment at Ascent Spa for the ultimate relaxing Mother's Day gift – like the new Herbal Scrub and Wrap Spa Package, which uses seasonal herbs like lavender and rosemary for an unforgettable full body scrub and includes one-night deluxe accommodation. And it's all about the Summerdale Barbecue on Father's Day. Dad can kick back and enjoy live entertainment and a delicious meal while someone else mans the grill.
For more information and reservations, visit http://www.tenayalodge.com.