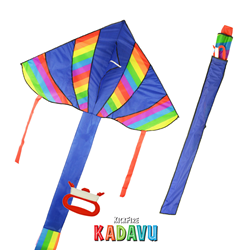 The KickFire Kadavu® is the best kite for kids. It soars like a bird in the skies and provides hours of fun in the breeze and the sun.
Kaysville, Utah (PRWEB) April 20, 2016
KickFire Classics®, a toy manufacturing company committed to creating fun, quality toys that encourage children to unplug from technology & engage in active play, released a new specialty kite for kids. The KickFire Kadavu® Kite is a premium delta kite that is easy to get up and keep up in the air.
Named in honor of the tropical Fijian bird, the KickFire Kadavu® kite features a wingspan of almost 6 feet, and stretches 10 feet from top to tail. The multi-colored kite is made from durable, rip-stop nylon and comes with a plastic reel, 100 ft of string, and a convenient carry and store kite bag.
When asked about the Kadavu®, KickFire Classics CEO, Janelle Page Misbach, explained, "We wanted to create the best kite for kids. One that would be easy for children to fly all by themselves, and one that would turn heads of passersby as it soared in the sky. The Kadavu® does just that. Our feedback from parents and children has been fantastic!"
The KickFire Kadavu® is easy to assemble and comes with a quick-start online video tutorial from KickFire Classics' very own resident kite flying expert, Luke Kitewalker. Luke shows users how to "uncage their Kadavu" and how to get her "soaring high in the sky!" Luke Kitewalker also appears in the company's kite infomercial, which features product pictures, video footage of the kite in use, and highlights the many features and benefits of the Kadavu® kite. You can watch the video on YouTube by clicking here
With kite season in full swing, Tyler Seamons, KickFire Classics' COO, stated, "It has been exciting to see our Amazon sales soar. What parent doesn't want a hassle-free kite that provides hours of fun in the breeze and the sun? We definitely suggest buying more than one!"
About KickFire Classics:
KickFire Classics is a toy manufacturing company in Kaysville, Utah committed to creating high-quality toys for kids that provide a break from technology and challenge children to get outside and play. Some of our most popular toys include the KickFire Kadavu® Kite with Luke Kitewalker, the KickFire Diabolos® Chinese yoyo with Ty the Diabolo Guy, and the Banded Bandit® rubber band gun featuring Cowboy Cory. If you are looking for great gifts for your children or grandkids, check out our full line of KickFire Classics toys at KickFireClassics.com.
Contact Info
Name: Janelle Page Misbach
Organization: KickFire Classics
Website: http://kickfireclassics.com
Email: crew(at)kickfireclassics.com
Phone: 801-800-8608
Country: United States