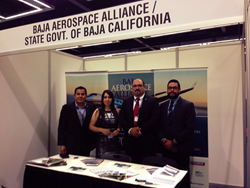 Tijuana, Mexico (PRWEB) April 20, 2016
The Aerospace and Defense Summit is considered one of the most important events in the global aerospace industry each year. Previous years have brought together more than 900 companies from 40 countries worldwide. This year, the event featured a special focus on Boeing´s 100th year celebration.
The Baja California delegation met with more than 50 key aerospace companies, as well as with representatives from 10 clusters and 35 chambers and associations during the two-day event.
Through participating in the Forum, the delegation was able to identify potential companies that could benefit from manufacturing operations within Baja California as a viable solution to the competitive and cost challenges they face. Additionally, the delegation was able to identify potential suppliers to satisfy the demands of local industries within the state that accounts for 32.5 billions in imports annually.
The global aerospace industry is projected to grow at just 3% in 2016, and according to a Deloitte´s report companies are facing the challenge of increasing profits in a slow-growing market without risking quality. Manufacturing in Baja California represents a cost-competitive solution, integrating compliance, experience, engineering talent availability and a free trade network of 45 potential markets.
"Currently, the US is the leader in this sector and the state of Washington represents the largest cluster in the country," said Cristina Hermosillo, president of the Tijuana EDC. "We came to share the competitive advantages of manufacturing in Mexico´s top state for the aerospace sector."
Baja California has developed a strong manufacturing base to serve the aerospace and defense industry. In Tijuana alone, there are currently more than 37 aerospace companies operating which generate more than 11,600 jobs making the city the country´s largest concentration in the sector.
Fifty years of experience in aerospace manufacturing is reflected in the growing base of ISO 9100 and NADCAP certified companies with capabilities for metal mechanics, electronics, plastics and composites materials.
Baja California continues to prove its competitiveness in aerospace and defense manufacturing and will continue to be a part of this event and others with the objective to communicate the message that Tijuana and Baja California provide a viable solution to operating cost, proximity and talent availability challenges faced by the global aerospace industry.
About TIJUANA EDC: Founded in 1989, the non-profit Tijuana Economic Development Corporation (DEITAC as its acronym in Spanish) has been dedicated to helping manufacturing companies take advantage of the benefits found in Tijuana. With over 100 private-sector members from both sides of the border who are experts in areas like industrial development, construction, law, accounting, custom brokerage and logistics, maquiladora/shelter services and more, the Tijuana EDC can help your company map out a new path to profits and competitiveness.