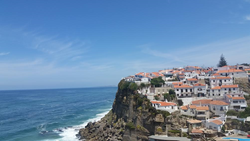 Portugal Yoga Teacher Training
New York, NY (PRWEB) April 20, 2016
Drishti Yoga International Teacher Training has been training Yoga Teachers around the Globe offering 200 hour Yoga Alliance approved courses since 2012. Today they announced that they will now take their trainings to the next level offering more advanced and in depth modules - starting with an advanced 100hr Portugal yoga teacher training module. Sarah Walsh, Co- Founder of Drishti Yoga Teacher Training, explains, "We have spent these last few years training people how to teach Yoga with our 200 hour courses which is really just the tip of the Iceberg in terms one's education and training as a professional Yoga Teacher. We are excited to take our students deeper and enhance their offerings as teachers with more knowledge and more tools."
"We are looking forward to holding our first 100 hour advanced module in the beautiful country of Portugal in the summer of 2016," said Beams Co-Founder Carri Uranga. "I spent some time there last year and it is a perfect setting to get away and immerse yourself in Yoga studies while soaking in the beautiful surrounding beaches!" The course is for those who have already completed their 200 hour Yoga Teacher Training at another school or from Drishti and looking to work towards their 500 hr. accreditation or simply to further their education.
The 100 hour Advanced Yoga Teacher Training runs from July 4th until July 17th 2016 in Columbeira, Portugal at Buddha Retreats. The course is a 100 hr. Advanced Yoga Alliance Vinyasa Teacher Training intensive with foundations in Ashtanga Yoga and a focus on Prenatal Yoga.
About Drishti Yoga Teacher Training
Discover the impact of intimate personal attention combined with focused training in exotic locations with Drishti Yoga Teacher Training. Combine your passion for Yoga and your love of travel to create a transformative experience on and off the mat.
Upcoming trainings will be in Portugal from July 4th- July 17th 2016, Greece from July 17th - August 10th, Napa Valley, California from August 26th- September 2nd 2016. For detailed information on these trainings and to find how else Drishti is making a ripple effect in the Global Yoga Community visit us DrishtiYogaTeacherTraining.com