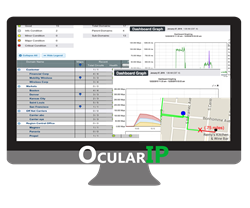 Raymond Chiu CTO of Local Backhaul Networks stated "This new release provides over 20 enhancements directly tied to the input from our widespread customer base that will grow the return they are receiving from the OcularIP platform."
St. Louis, Missouri (PRWEB) April 20, 2016
Local Backhaul Networks, http://www.localbackhaul.com, the leading provider of service assurance measurement, reporting and portal solutions, today announced the availability of OcularIP4.0. Raymond Chiu CTO of Local Backhaul Networks stated "This new release provides over 20 enhancements directly tied to the input from our widespread customer base that will grow the return they are receiving from the OcularIP platform." Through OcularIP's automated update service, customers were upgraded automatically allowing them to effortlessly take advantage of advanced analytics, trending, enriched visualization to improve network performance and optimize their customer's experience.
OcularIP4.0 enhancements include:
Circuit/Service Ranking - Identifies the percentile of service delivery against all other circuits or services. Carriers can address the lowest performing circuits at all times, directing their resources to resolve worst performing services before issues occur. This is in addition to OcularIP's current compliance analytics including SLAs, baselines, and application performance. Automatic performance ranking is a mandatory foundation for carriers looking to migrate to LSO, NFV and SDN.
Smart Maintenance - Industry SLA's are becoming more and more stringent. Smart maintenance helps carriers by calculating actual downtime within a maintenance period versus excluding the entire maintenance window. If a carrier has a 3-hour maintenance window and the circuit is only unavailable for 20 minutes, the operational 160 minutes are added back into the availability period for the computation, potentially making the difference between a pass or fail.
Custom Graphing - Leverages OcularIP's ability to build custom dashboards by user selection of KPIs, circuits, and time frames. Users can now generate multi-faceted graphs tied to these dashboards. This function is ideal to meet the needs of operations, product management, executives and customers. Furthermore, as Custom Graphing is a natural extension of OcularIP's customer portal, pre-determined dashboard graphs can be enabled for specific customers.
Forecast Trends - Enables users to trend performance of any KPIs over any selected time frames. An example is a user defined OcularIP notification that latency has exceeded baselines by 1ms. Today, this has no impact on circuit performance. However by simply selecting the performance trend bar, users can analyze future forecast and see that in 40 days this trend may become service impacting. Forecasting for bandwidth is invaluable as well. This feature is included in OcularIP4.0.
Expanded REST APIs - Automation & Orchestration for SDN/NFV environments is paramount as Carriers are building their LSO services and systems to offer to their customers. OcularIP's open standard REST API's enable Carriers to seamlessly integrate their BSS/OSS systems for billing, inventory, provisioning, and ticketing management. The new Circuit Management & Provisioning API enables full dynamic SDN-circuit management and high precision SLA Service Assurance.
Most Technologies - OcularIP now supports 284 technologies in OcularIP4.0.
On Demand Licenses - Allows OcularIP users to purchase what they need, when they need it, direct from the portal. Carriers can now align license purchases with their business success.
About Local Backhaul Networks
Local Backhaul Networks provides network software platforms and professional engineering services that enable service providers to succeed in the fast growing market segments of mobile backhaul, Ethernet business and cloud services. Local Backhaul Networks solutions include: OcularIP, the industry's leading circuit performance monitoring and reporting portal, and W.O.O.D (Workflow Operations Optimization Database). Local Backhaul Networks provides engineering services and software solutions to the nation's largest wireless carriers, MSOs, IOCs, IXCs and enterprises and is headquartered in St. Louis, Missouri. For more information, contact: http://www.localbackhaulnetworks.com.
All descriptions and specifications are intended for general information. Some features may be optional. All names, products and trademarks are used for identification purposes only and are the property of the respective owners.