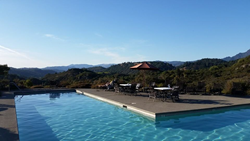 Napa Valley Yoga Teacher Training
New York, NY (PRWEB) April 21, 2016
Drishti Yoga International Teacher Training has been training Yoga Teachers around the Globe offering 200 hour Yoga Alliance approved courses since 2012. Today they announced that they will now take their trainings to the next level offering more advanced and in depth modules. Sarah Walsh, Co- Founder of Drishti Yoga Teacher Training, explains "We are very proud of our 200 hour curriculum and feel confident our graduates are able to teach after completion, however, it is always important to continue your education in this field and there is plenty more to learn to enhance your skills as a teacher. This 50 hour module will have a focus on Yin and Restorative Yoga which are great supplements to certified Vinyasa Teachers. The Yoga teaching world is increasingly competitive and to have more tools to offer only increases your value and thus opportunities. "
"We are looking forward to holding our first 50 hour advance module in spectacular setting of the Mayacamas Mountains in Napa Valley, California in the summer of 2016" Beams Co-Founder Carri Uranga. "We held a Wine and Yoga Retreat there over Labor Day weekend in 2015 and are eager to return for a longer stay." The course is for those who have already completed their 200 hour Yoga Teacher Training at another school or from Drishti and looking to work towards their 500 hr. accreditation or simply to further their education.
The 50 hour Advanced Yoga Teacher Training runs from August 26th until September 2nd 2016 in Napa Valley, California at Mayacamas Ranch. The course is a 50 hour Advanced Yoga Alliance Vinyasa Teacher Training intensive with foundations in Ashtanga Yoga and a focus on Yin and Restorative Yoga.
About Drishti Yoga Teacher Training
Discover the impact of intimate personal attention combined with focused training in exotic locations with Drishti Yoga Teacher Training. Combine your passion for Yoga and your love of travel to create a transformative experience on and off the mat.
Upcoming trainings will be held in Portugal from July 4th- July 17th 2016, Greece from July 17th - August 10th, Napa Valley, California from August 26th- September 2nd 2016. For detailed information on these trainings and to find how else Drishti is making a ripple effect in the Global Yoga Community visit us at DrishtiyogaTeacherTraining.com.