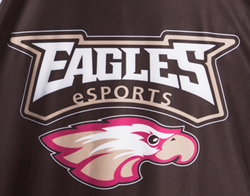 The finals competition culminates what has been a remarkable regular season for Robert Morris University eSports. - Kurt Melcher
Chicago, Illinois (PRWEB) April 20, 2016
The Robert Morris University Illinois eSports team has made it to the League of Legends Campus Series (uLoL) Final Four. On Saturday, April 2,3 at 1:00 p.m., CST, the RMU Eagles will take on the University of Maryland. The four best teams will duke it out for the Campus Series trophy. The game will be broadcast online from PAX East Gaming Convention in Boston. To tune in, go to: watch.lolesports.com
Students on the RMU Eagles eSports travel team include Jesus "Minibestia" Coll of Cordoba, Argentina; Evan "EvanRL" Lawson of Lewisville, NC; Derek "Gillette" Castro of Brownsville, TX; Austin "Pomi" Wright of Champaign, IL; Derek "West Coast Carry" Micheau of Olympia, WA; and Leo "Mogatu" Valladolid of Cicero, IL. League of Legends players all have a nickname, or "summoner" name by which they are known during play. Kurt Melcher, associate athletic director and women's soccer coach at Robert Morris, is also the eSports Director and originator of the eSports program at the University.
"The finals competition culminates what has been a remarkable regular season run for Robert Morris University eSports," said Melcher. This season the team had an undefeated record of 7-0, beating all North Division teams (Michigan State, Purdue, Ohio State, University of Manitoba, University of Chicago, Grand Valley State and the University of Illinois Champaign Urbana). They also advanced through the playoffs unscathed, defeating The Ohio State University and The University of Manitoba in straight games.
This is the second year of competition for Robert Morris University. Melcher began organizing and recruiting the first team in the spring of 2014, providing athletic scholarships for video gamers to attract elite level talent. RMU is the first institution – both nationally and internationally – to add eSports to its roster of athletics and offer athletic scholarships for gaming. During the Eagles' first season of play, they made it to the 2015 North American Collegiate Championship (NACC) tournament for League of Legends in Los Angeles, but lost to the University of British Columbia.
Robert Morris University Illinois is a not-for-profit, baccalaureate and graduate degree granting institution, accredited by the Higher Learning Commission of the North Central Association of Colleges and Schools.* The University serves over 4500 students interested in getting an education in business, graphic arts, nursing and health care, culinary and computer studies at its main campus in Chicago, as well as at locations in Arlington Heights, DuPage, Elgin, Orland Park, Bensenville, Springfield, Peoria, Schaumburg and Lake County. In all communications, please refer to the university by its full name, Robert Morris University Illinois. For more information, call 800-RMC-5960 or visit the web site at http://www.robertmorris.edu
*Higher Learning Commission of the North Central Association of Colleges and Schools, 30 N. LaSalle Street, Chicago, IL 60602, 312-263-0456.