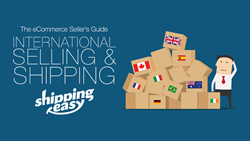 Austin, TX (PRWEB) April 20, 2016
Within the International Selling and Shipping Guide, online sellers will have everything they need to be prepared in offering international shipping to their potential customers. This must-have tool includes:

An analysis of international eCommerce opportunities and how to determine which countries to target: Learn what's out there and get the resources needed to pick the best eCommerce target markets.
Tools for planning and setting up international shipping operations: The guide summarizes and simplifies the relevant legal, customs, and regulatory information.
Data for optimizing international shipping costs: To help understand international shipping costs and select the right carrier, the guide provides tables summarizing shipping cost data across select carriers, international destinations, and weight ranges.
Real-world examples of how other eCommerce businesses sell and ship internationally: ShippingEasy has analyzed its proprietary, anonymous shipping data to illustrate how other eCommerce vendors are successfully selling and shipping abroad and which carriers and services they are using.
"Many online sellers have incredible potential for success overseas, but don't have the necessary information and insight to get started," said Katie May, CEO of ShippingEasy. "We get a lot of questions about selling and shipping internationally, and we know how complex and intimidating this process can be. The Seller's Guide to International Selling & Shipping is an amazingly valuable and easy-to-use distillation of the essentials that will save companies time and money. It will greatly support eCommerce sellers in their efforts abroad."
To learn more, download the ShippingEasy eCommerce Seller's Guide to International Selling & Shipping today.
About ShippingEasy:
ShippingEasy provides online merchants with the easiest cloud-based shipping solution enabling order consolidation across multiple channels and multiple carriers, including USPS, FedEx and UPS. ShippingEasy integrates with leading online marketplaces and store platforms to allow order, tracking and fulfillment data to populate in real time across all systems. ShippingEasy offers full automation with AutoShip and robust tools such as shipping rules, a product database, endless customization and enhanced reporting. For more information, visit http://shippingeasy.com/