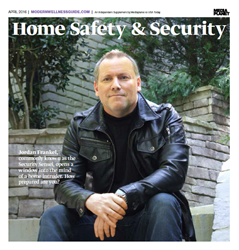 tools like parental controls give parents more options for protecting and guiding their children by developing an interactive relationship between parent and child to determine what is appropriate for their digital lives
New York, NY (PRWEB) April 20, 2016
Mediaplanet today announces distribution of the latest edition of "Home Safety & Security," a cross-platform campaign raising awareness and educating readers on the latest in home security, cyber security, and home safety. With over 2 million reported home burglaries in the US each year, the campaign educates readers on the best practices to keep their homes as safe and sound as possible. In addition, the campaign highlights the most common preventable injuries in the home as well as the latest threats in cyber-security.
The campaign features exclusive content from the National Safety Council, which details the most common and lethal threats to children, teens, adults and seniors. "Every day more than 100,000 people are seriously injured in preventable incidents—that's one person every second," says Deborah Hersman, President and CEO of the National Safety Council and mother of three.
The campaign also features editorial from the National Crime Prevention Council and the Information Systems Security Association highlighting what you can do to ensure your home network is up to date and as secure as possible. With internet users getting younger and younger, "tools like parental controls give parents more options for protecting and guiding their children by developing an interactive relationship between parent and child to determine what is appropriate for their digital lives," explains Brett Schetzsle, Consumer Security Specialist at Kaspersky Lab.
The print component of "Home Safety & Security" is distributed within USA Today on April 20th, with a circulation of approximately 250,000 copies and an estimated readership of 750,000. The digital component is distributed nationally, through a vast social media strategy, and across a network of top news sites and partner outlets. To explore the digital version of the campaign, click here.
This campaign was made possible with the support of the National Safety Council, National Crime Prevention Council, Electronics Security Association, Juvenile Products Manufacturers Association, Securities Industry Association, Kaspersky Lab, Avast, Discovery Education, Toyota365 and many more.
About Mediaplanet
Mediaplanet is the leading independent publisher of content-marketing campaigns covering a variety of topics and industries. We turn consumer interest into action by providing readers with motivational editorial, pairing it with relevant advertisers and distributing it within top newspapers and online platforms around the world.
Contact:
Gabe Seidman
gabe.seidman(at)mediaplanet(dot)com
646-922-1419