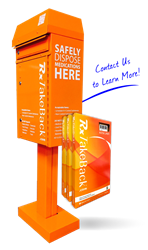 "We are positioning RxTakeBack™ to be a household name for consumer prescription disposal."
Largo, FL (PRWEB) April 20, 2016
PharmaLink, Inc. ®, and American Security Cabinets have collaborated to launch the industry's first technology driven solution for consumer prescription disposal, RxTakeBack™.
RxTakeBack™
RxTakeBack™ was developed in response to the requirements set forth in the Secure and Responsible Drug Disposal Act of 2010 and the growing need for U.S. consumers to have a compliant and logical outlet for all types of prescription disposal. RxTakeBack™ is available to be purchased by any entity that can collect pharmaceuticals according to DEA regulation. These facilities includes retail pharmacies, certain hospitals, narcotic treatment programs, and law enforcement.
RxTakeBack™ provides its users with a turn-key solution that includes, an ADA compliant collection kiosk, disposable kiosk liners, complete transportation logistics, and access to a web-based tracking and compliance system that assist users in conforming to DEA and EPA regulatory requirements. By leveraging the expertise of the project collaborators, PharmaLink and American Security Cabinets are delivering a cost effective solution that is poised to be the industry standard.
Thierry Beckers, PharmaLink President & COO, was quoted saying, "We have been monitoring the industry's need for a responsible solution to consumer prescription disposal while at the same time looking at the compliance of facilities participating in take-back programs. With our background in technology and healthcare supply chain, we looked to improve upon other solutions the industry has produced and create a product that further reduces cost and helps facilities navigate the regulatory process. This product is closely aligned with our core values and our corporate vision; 'To be the strongest Link in the healthcare supply chain; delivering ethical and responsible solutions to businesses and consumers.'"
Mike Pietrini, President & CEO of American Security Cabinets, noted that "I knew that PharmaLink was the right partner for us because of our mutual commitment to compliance and our dedication to quality products. The quality of our kiosks parallels the technology PharmaLink has developed for this product. Together we are positioning RxTakeBack™ to be a household name for consumer prescription disposal."
The RxTakeBack™ prescription disposal solution is currently available for sale to eligible facilities in the United States.
About PharmaLink, Inc.®
Based in the Tampa Bay Area of Florida, PharmaLink, Inc. is the nation's premier Pharmaceutical Reverse Logistics and Disposal provider. With services spanning the complete spectrum of the pharmaceutical supply chain, they have a 360 degree view of the needs of all businesses involved in the delivery of healthcare. From a reverse logistics perspective, they deliver impactful solutions that trim cycle time while safely removing unwanted product from the marketplace. PharmaLink's simple user interfaces are backed by a powerful enterprise infrastructure, producing accurate processing and quality analytics that optimize business decision and increase bottom line. This is all achieved while adhering to stringent regulatory guidelines at the state and federal level. PharmaLink has customizable solutions available for any size client.
Learn more at http://www.pharmalinkinc.com and http://www.rxtakeback.com
About American Security Cabinets
For over 40 years, American Security Cabinets has provided industry leading solutions in secure metal cabinetry. Based in St. Cloud, MN, this Midwestern Company manufactures prescription drug collection boxes, all 100% hand assembled and made in the USA. Each cabinet features a high level of security with superior locks and hinges, provided in unlimited finishes all designed to ADA / DEA standards.
All products are customizable with branded graphics giving customers a competitive edge in the marketplace. American Security Cabinets offers multiple purchase options and guidance for developing a prescription drug collection box to fit the needs of every customer.