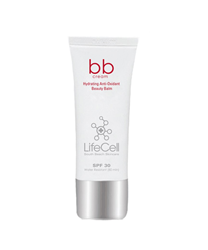 Hollywood, FL (PRWEB) April 20, 2016
LifeCell Skincare based in the beach town of Hollywood, FL has been in the business of anti-aging skincare for well over a decade. Their flagship product, the All-in-One Anti Aging Treatment has been featured in prestige publications like Vogue, Elle, and most recently, Variety. LifeCell counts Emmy and Oscar winning actors and actresses as loyal fans. It seems as if the company is at the top of their game, so what's next? Sun care.
Not just any sun care. Sun care products with high SPF that actually help your skin look better, while preventing further damage from the sun's harmful UVA and UVB rays. LifeCell has dedicated itself to formulating safe and topical anti-aging treatments that will help repair the look of aging skin. Healthy, youthful looking skin has always been their goal. Some may some, call them the go-to experts on skincare. When asked about the company's next step in skincare, Christina Saunders, LifeCell's Director of Product Development, who recently created Lifecell's Lip Plumper, was enthusiastic to announce their venture into sun care. "We already have a BB Cream that has SPF 30. It's one of our best sellers. We finally finished perfecting our BB Sheer with SPF 50. It's primer, a moisturizer, and sunscreen in one product! I wear sunscreen every single day of my life, so I'm definitely a fan.". Saunders went on to elaborate on how LifeCell plans on expanding their sun care line to include options for both oily skin, and dry skin. This new line will focus on anti-aging prevention.
As with all sun care products, each formula has to go through vigorous testing that follow FDA guidelines. LifeCell's products are manufactured in FDA approved labs. LifeCell products are hypoallergenic, paraben-free, as well as fragrance-free. LifeCell is also certified Cruelty-Free by PETA for its promise to never test a single product on animals.
LifeCell Skincare is an anti-aging skincare company founded in 2005. It's headquarters are located in Hollywood, FL. LifeCell gained popularity due to its 30-day trial promotional offer which allows customers to try their All-in-One Anti-Aging Treatment for 30 days as part of their "try before you buy" marketing campaign. This offer is always available at lifecellcream.com or check out the Lifecell Facebook page.