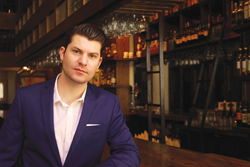 The bar culture is ever-evolving and the drinks have to reflect, or even, lead that change.
San Francisco, California (PRWEB) April 22, 2016
Craft cocktail expert Adam Delaney, known in the San Francisco bar scene as "Delaney," has a passion for creating hand-crafted cocktails that honor past classics while pushing a fresh perspective. His skills for mixing up some of the Bay Area's best drinks recently landed him a first place finish and a trip to Italy in the Montenegro Mix-off. The nationwide promotion pitted the country's best tastemakers in a competition to create a signature drink that included 1 oz. of Amaro Montenegro, the promoter's namesake liqueur.
Before his Italian payoff, Delaney, 26, faced regional winners in an "Iron Chef" inspired Mix-off at Tales of the Cocktail in New Orleans, the world's premiere cocktail festival. "I figured, let's go for it! I knew my drink really highlighted the integrity and layered character of the Amaro, but taste is so personal. I had no idea if the judges or the crowd would taste it the same way," said Delaney. They obviously did. With the first place win, Delaney's ability to inherently understand the public's ever-evolving taste trends was proven to be spot on, "As a barman, I have to know where we've been and where we're going when it comes to drinks. The bar culture is ever-evolving and the drinks have to reflect, or even, lead that change."
After New Orleans, Delaney was treated to a five day all-expense paid trip to Italy that included a stop in Bologna, the sponsor's headquarters. "It was all pretty sweet. The trip, the history, the hospitality that I was shown by Montenegro – all over one drink."
With another notch on his cocktail belt, Delaney returned to San Francisco to face his next challenge – completing plans for his premiere bar concept with his business partner Selena Donovan. "Italy was the final step I needed in cementing the plans for my first business endeavor – an original bar concept that I feel is missing in the bay area. Travel and a great drink can really fuel inspiration. Now all I have to do is choose the perfect location and partner with investors who share my passion for creating something fresh but familiar," he added. If Delaney's instinct prove him right again, that decision should be as easy as mixing a new drink.
Delaney's Montenegro Mix-off Winning Recipe
The Bitter Fix*
1 1/4 oz. Amaro Montenegro
3/4 oz. Lemon Juice
1/2 oz. Pineapple Syrup
1/4 oz. Grand Marnier
Shake, Pour over crushed ice in a Rocks glass,
2 orange slices to garnish.
*A "Fix" was an old style classification for cocktail. Essentially just a fancy "Sour" built (I prefer to shake it) over crushed ice and dressed w/ seasonal fruits.