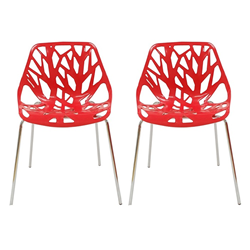 It [Net Chair] is always in high demand, and the simple colors of black and white can really make any room beautiful.
(PRWEB) April 20, 2016
There is no better way to put the finishing touches of spring furniture in the home or office than with the EZmod Deals of the Week. EZmod launched three exciting Deals of the Week this past Monday, which includes three versatile sets of chairs. These sets include the Elio chair, the Branch chair and the Net chair. Plus, EZmod Furniture now has an Instagram account.
The Elio Chair is a customer favorite because of the versatility and functionality. The simplicity of the Elio makes this chair very attractive. It is known for the simple lines among the entire chair and the overall sturdy build of thick molded plastic. Not just the suave presentation, but the functional stacking technique that one rarely finds in a chair is very convenient. Elio chairs are also very easy to clean and come in five different colors.
Net chair is also made up of thick plastic; however it gives off a very nice shine from the protective layer. This makes Net chair a hot commodity. "It is always in high demand, and the simple colors of black and white can really make any room beautiful," explained Gloria, Operations Manager. And with the protective shine, this makes these chairs scratch resistant. These chairs are also stackable and easy to clean. The beauty is all in the design.
Branch chair is also very unique. Known for its rounded back, the branch chair also resembles a silhouette of a tree and its branches. Coming in five different colors, this gorgeous chair can be used indoors for your dining area and outdoors for your backyard patio.
EZmod Furniture loves to see what customers do with EZmod products in the home, office, patio…just about anywhere! Now there is an EZ way to do it, follow @ezmodfurniture on Instagram. The account will be updated regularly with new items, sales, promotions and everything you need to stay in MOD.
Shop at EZmod and create a fresh new look with modern furniture design for a striking finish to any room. EZmod Furniture is an online modern furniture retailer located in Baldwin Park, California. For further assistance, please call Angelique Valdez, Sales & Marketing Associate at 866-630-6161 ext. 113 or email at sales(at)ezmodfurniture(dot)com.