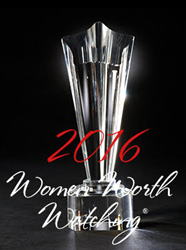 Nominate your women leaders today!
Cleveland, Ohio (PRWEB) April 21, 2016
Profiles in Diversity Journal proudly announces the opening of nominations for the 2016 Women Worth Watching® Awards.
Throughout the publication's history, it has profiled thousands of women from every discipline and industry who are changing workplaces and the world. Simply go here to nominate: womenworthwatching.com
Nominations are open through June 10, 2016. Award winners will be announced June 20, 2016.
The winners (there's usually around 100 each year) are showcased in the special Summer edition of the magazine, complete with a full-color, full-page profile article, photograph, and corporate logo. Join the ranks of global participation by nominating one or more influential women executives. This award attracts nominations across all sectors for women at all levels and has no geographical boundaries.
Over the past 14 years, nominations have come from companies, governments, educational institutions, the STEM sector, the legal sector, the travel industry, banking, insurance, oil and gas, hospitals, health-care, real estate, non-profits and all sorts of organizations around the world. View last year's issue today.
Learn more about the popular Women Worth Watching Awards process, application fee, and nomination rules. http://www.womenworthwatching.com
Throughout the publication's history, it has recognized women trailblazers for their achievements. From the first woman Secretary of the Interior, Gale Norton, to Hollywood's first lady of Gender Equality, Academy Award Winner Geena Davis, the publication has unveiled voluminous stories of achieving women. Some were in their company's highest role, others were destined to achieve success. Various Women Worth Watching award winners have since taken on the role of chief executive officer at Fortune 500 companies.
Deadline for nominations is Friday, June 10th, 2016.
Award winners will be announced June 20, 2016.
Ruth Hawk | Editor
Profiles in Diversity Journal
ruthhawk(at)diversityjournal(dot)com