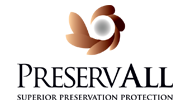 Branchburg, NJ (PRWEB) April 20, 2016
PreservALL (http://www.preservall.com/), is pleased to announce a new line of preservation bags that feature Intercept Technology™, the same technology used in the Paul Revere time capsule.
"More than 200 years ago, Paul Revere, Samuel Adams and William Scollay put a time capsule beneath the cornerstone of the Massachusetts State House," explained PreservALL company partner Chris Della Valle. "In December 2014, it was discovered and unearthed. This priceless find yielded up five newspapers, 23 coins (one of which dates back to 1652, a medal with the imprint of George Washington, a paper seal of the Commonwealth of Massachusetts and a silver plate that may have been forged and inscribed by Paul Revere himself."
Why is this find so exciting for PresevALL?
"Needless to say, these are incredibly important historical artifacts. After they were carefully removed and examined, they needed to be protected, especially since the capsule was to be reburied. These items were packaged with Intercept Technology™ film to prevent further corrosion and deterioration. Thanks to Intercept, if someone finds the capsule another two centuries from now, the capsule and the contents will be in great condition!"
PreservALL sells preservation bags that use this same Intercept Technology, but you don't have to be building a time capsule to use it. The affordable bags that protect against air pollution, oxidation, corrosion, mold, mildew and fading are used for wedding gowns, documents, digital media, guns, memorabilia, auto parts, quilts, tapestries and more. The flexible, environmentally-friendly technology is the perfect way to preserve any important item.
"If it's good enough for Paul Revere, it's good enough for us!" laughed Chris.
PreservALL looks forward to keeping your important items in their best condition for future generations to enjoy. To learn more about PreservALL, visit https://preservall.com/about_us and https://preservall.com/Shop-Now.
About PreservAll
We offer preservation and corrosion prevention packaging and storage products for garments, firearms, documents, quilts/tapestries, hunting and camping equipment, coins, antiques and collectables. Our products use Intercept Technology™, an environmentally friendly technology that does not coat items or leave detectable deposits on items it protects. Intercept is not a VCI (volatile corrosion inhibitor). Intercept is a reactive technology unlike other products that work passively. Intercept absorbs and neutralizes corrosive gasses that lead to corrosion and breakdown of materials such as fabrics, ferrous and non-ferrous metals, stamps, comic books, documents and anything else affected by atmospheric degradation.
Contact Details:
Mr. Chris Della Valle
600 Kenrick Dr., Suite C-40
Houston, TX 77060
Ph: (713) 822-9040
Fax: 908-526-0007
Source: PreservAll
###