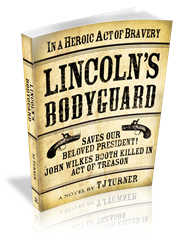 Civil War buffs will love this page-turner
Longboat Key, FL (PRWEB) April 20, 2016
The Story:
In Lincoln's Bodyguard, an alternative version of American history, President Lincoln is saved from assassination. Though he prophesied his own death—the only way he believed the South would truly surrender—Lincoln never accounted for the heroics of his bodyguard, Joseph Foster. A biracial mix of white and Miami Indian, Joseph makes an enemy of the South by killing John Wilkes Booth and preventing the death of the president. His wife is murdered and his daughter kidnapped, sending Joseph on a revenge-fueled rampage to recover his daughter. When his search fails, he disappears as the nation falls into a simmering insurgency instead of an end to the War. Years later, Joseph is still running from his past when he receives a letter from Lincoln pleading for help. The President has a secret mission. Pursued from the outset, Joseph turns to the only person who might help, the woman he abandoned years earlier. If he can win Molly over, he might just fulfill the President's urgent request, find his daughter, and maybe even hasten the end of the War.
The Reviews:
"In this deft and brilliant reimagining of history, TJ Turner mines the best of old-school detective fiction to bring a wild new version of Lincoln, the Civil War and its aftermath to life. The hero of Lincoln's Bodyguard, Joseph, possesses the scruples of Spade combined with the burning, battered heart of a Heathcliff, yielding a deeply conflicted man on a mission with everything to lose―the last parts of him that make him human. You can count down the days till this one is optioned for the big screen."
―Joe Clifford, Bestselling author of Lamentation
"A remarkable historical novel, based on a reasonable premise: What if Abraham Lincoln's bodyguard had thwarted John Wilkes Booth? Author T. J. Turner explores a post-Civil War America through the eyes of Joseph, the man in the shadow whose job is to protect Lincoln and help save a country still torn apart."
―Jim Satterfield, author of Saving Laura and The River Song
"With Lincoln's Bodyguard TJ Turner has created an excellent alternative-history thriller that is cleverly envisioned and executed with tight plotting, fascinating characters, and crisp prose."
―DP Lyle, award-winning author of the Samantha Cody and Dub Walker thriller series
"This tightly constructed story is told economically, moving from Washington to Charleston, South Carolina to Memphis to Yellow Springs, Ohio in 212 pages. Turner unfolds events from Foster's point of view, telling you his thoughts, and sketching out the personalities and appearances of supporting characters. This is a thriller and it is about the plot, not character development. Nonetheless Foster is a fascinating narrator and you root for him throughout the novel. He is a man in need of redemption and you hope that he finds it.
"Turner includes many arcane details for history buffs. When Foster is forced to flee Washington he actually follows the same route taken by Booth after the assassination. Jekyll Island in Georgia is portrayed as an enclave for wealthy Northerners albeit 15 years before it was actually so. Yellow Springs, Ohio really was a prominent stop on the Underground Railroad and a climactic scene in Lincoln's Bodyguard takes place in a mill there, likely Clifton's Mill, which is still standing and open to the public.
"Civil War buffs will love this page-turner, but the story is involving enough to grip nearly any reader. It also passes a popular feminist test (for films, but whatever) in that it features a woman who does a lot more than just get rescued. Lincoln fans will also appreciate Turner's characterization of him and enjoy his alternate fate."
―Ithaca Times
"The core of the story―Joseph's mission―works just fine on its own terms as a period detective story and an adventure yarn about heroes on the run from deadly pursuit. Joseph's mission includes characters who would feel at home in a 1930s noir, from a prostitute with a heart of gold to a mysterious assassin who leaves origami calling cards to a series of strangers who help or betray Joseph along the journey. The character's backstory includes a daughter taken hostage by the Confederate leader who also murdered Joseph's wife, as well as a knowledge of Underground Railroad stops thanks to his conductor mother.
"Turner builds the stakes nicely and changes them along the way, making the smaller story work."
―Foreword Reviews
"In the prologue of Turner's first novel, an intriguing and plausible alternative history, Joseph Foster, a bodyguard in the presidential box at Ford's Theatre on the night of Apr. 14, 1865, prevents John Wilkes Booth from assassinating Lincoln. Seven years later, however, the Civil War still simmers as a guerilla conflict. Foster, who left Washington after saving the president's life, returns to D.C. in response to a summons from Lincoln, now in his third term. The president, a shadow of his former self ("the office had drained him, pulling his very essence from the shell of his suit"), is worried about a traitor in the White House passing secrets to the Confederates. Meanwhile, Col. William Norris, a leader of the resistance who headed the Confederate Secret Service, offers to end the fighting. Despite Norris's role in planning Booth's murderous mission, Lincoln wants Foster to meet with him. The plot twists of this imaginative what-if will keep readers guessing."
―Publishers Weekly
About the Author:
TJ Turner is a novelist, a historian, a research scientist, and a Federal Agent. He graduated from Cornell University and as a reserve military officer, he has served three tours in Afghanistan and was awarded the Bronze Star Medal in 2013. His essay about his deployments to Afghanistan—The Power ofTeddy Bears—was accepted and read on NPR's This I Believe national essay series. Turner lives in central Ohio, with his wife, Nancy, and three children. http://www.tjturnerauthor.com/