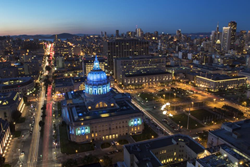 Organ and tissue donations are life-giving acts and expressions of compassion to those who are in need.
San Francisco, CA (PRWEB) April 20, 2016
The lights of the iconic City Hall building in San Francisco went blue and green as a symbol of the city's support of organ, eye and tissue donation as a way to save lives.
April is National Donate Life Month and Donor Network West, the organ procurement organization that heals lives through donation, celebrated by inviting transplant recipients, donor families, hospital partners and the community to witness the moment in which the lights of City Hall were lit up around sunset on April 15.
"Thousands of people around the Nation are proudly displaying the Donate Life colors during April to celebrate those who have given the gift of life and give hope to those who are waiting for a life-saving transplant ," said Cindy Siljestrom, CEO of Donor Network West. "San Francisco is a giving and vibrant city; what better place for this to happen?"
In addition to the lighting of City Hall, San Francisco District 3 Supervisor, Aaron Peskin, signed a Donate Life Month proclamation highlighting that almost 8o percent of the people waiting for an organ transplant in San Francisco belong to ethnic minorities.
"Organ and tissue donations are life-giving acts and expressions of compassion to those who are in need," said Peskin.
There are 22,000 Californians awaiting a life-saving organ transplant, of which 720 reside in the City and County of San Francisco. One organ donor can save the lives of up to eight people and a tissue donor can heal more than 50 others. Anyone can register as a donor at DonorNetworkWest.org or at the DMV.
About Donor Network West
Donor Network West saves and heals lives by facilitating organ and tissue recovery for transplantation. The organization was established in 1987, and is an official Donate Life organization accredited by the Association of Organ Procurement Organizations (AOPO) and the American Association of Tissue Banks (AATB). Federally designated to serve 40 counties in northern California and Nevada, Donor Network West partners with the Department of Motor Vehicles and the state-authorized donor registries. For information, visit http://www.DonorNetworkWest.org, follow us on Twitter or like us on Facebook.