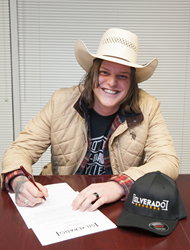 Think Nirvana meets Country
Nashville, TN (PRWEB) April 20, 2016
Silverado Records, a new independent Country music record label, today announced the signing of Country music artist Gage West to the label.
"Every once in awhile you meet someone who just oozes that X-factor and really brightens a room when they walk in. Gage West is all that and more, and we couldn't be more excited to have him on Silverado Records," said Silverado Records CEO Scott Thomas.
West moved to Nashville in 2015 after years as the frontman for hard rock band To Speak of Wolves. His unique style is often explained as "Nirvana meets Country" and promises to bring a new perspective to the music he records. West is currently writing and working on new material.
"Since meeting Gage I have been impatiently waiting to expose his songs. He is a perfect example of the American artist pulling from his roots, making him unique and an artist to really watch out for," said Silverado Records A&R Director Aaron Chesling. "He is a working man that doesn't hesitate to swig the coffee and hit the pavement when it comes to work, life and his music. I'm so stoked to work with him on his upcoming records."
"It feels good to be part of a label family that allows me to stretch my vision, and push the limits of my music. I feel like you don't see that very often with mainstream country labels." said West. "I'm really honored that they are giving me this opportunity. I can't wait to see what the future holds."
Gage can be found on Twitter @GageWestMusic
[end]
Photo credit: Hunter Berry
About Silverado Records: Silverado Records is an independent Country music record label. Founded in late 2015 to bring great Country music to the world, and to be a platform where independent artists can launch. Headquartered in Nashville, TN the label's artist roster includes Gage West. Silverado Records music is distributed digitally by The Orchard.
The company's website is located at http://www.silveradorecords.com/
On Twitter @SilveradoLabel