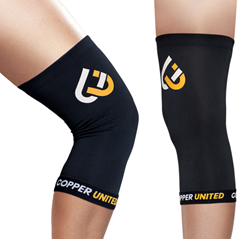 "One thing I immediately noticed was a cooling feeling on the leg when I wore it. It breathes well and stays in place from the rubbery band on the top of it," said Amazon Reviewer Master K.
Longview, Texas (PRWEB) April 22, 2016
Copper United, a revolutionary researcher, manufacturer, and producer of high-quality braces for quick recoveries and infallible joint support, continues to carve out a name for themselves in the international market by turning their attention to a uniquely valuable and often overlooked element: copper. By harnessing the bonding capabilities and natural connections of copper elements, Copper United have successful introduced an anti-odor an antibacterial compression Knee Brace unlike any other available today.
"Made of 88% Copper Infused Nylon and 12% Spandex, the thin, lightweight fabric keeps users' knees dry and comfortable even with long use," said Anthony Ferris, Founder and Owner of Copper United. "Our sleeves can be worn all day and throughout the night without a hint of unwanted moisture or odor. With all of the technological and research capabilities at our fingertips today, we've made it our mission to harness the information available from just a laptop click away."
Copper, a common metal found in nature, is widely located throughout human's bones. With very high thermal and electric conductivity, as well as biostatic and antimicrobial characteristics, incorporating copper into a compression Knee Brace makes it solidly antibacterial for users.
For centuries, copper has been used for its unique electric and elemental composition benefits, such as arthritis relief in joints throughout the body. Copper is able to generate a magnetic field that encourages the body to cure, regenerate tissues, and overall heal various illnesses.
Cognizant of copper's potential, Copper United carefully interweaves the natural metal into their Knee Braces for nonstop magnetic field comfort and relaxation in irritated knee joints.
"Simply adding copper to the nylon fibers was not sufficient, so we created a new way to do it," said Anthony. "Our team of doctors and experts patented a new, innovative technology that bonds organic copper onto fiber macromolecules. The results speak for themselves in our durable Knee Braces."
A guaranteed recovery knee sleeve for both men and women with a variety of injuries and discomforts, the Knee Brace protects the patella through running, contact sports, and everyday activities.
The Knee Brace is designed to be comfortable and easy to wear every hour of the day. The light, soft unisex elastic brace keeps users dry and protected from unexpected twists and turns.
Additionally, the braces help relieve muscle stiffness, extra soreness, and offers rejuvenating relief from osteoporosis, pain, discomfort, and any physical deformity preventing users from performing at their peak in specific situations. The compression technology stimulates oxygen delivery and promotes better blood flow to accelerate recovery of injured muscles, joints, and arthritis.
Ergonomically designed for a full range of motion, the Copper United Knee Sleeve offers superior comfort and mobility without any irritation or skin chafing.
"Too many people avoid wearing compression braces due to sweating, discomfort, smells, and potential bacterial infections," said Anthony. "It's indisputable how beneficial knee braces are for recovery. What is disputable is if the smells and chafing are worth it in the mean time. Our Knee Brace throws this apprehension out the window with the antibacterial properties of copper."
Copper United's patented Infusion Process emphasizes adding organic copper complex so that it is chemically bonded onto the fiber molecules. This bond ensures a lack of odor when wearing the Knee Brace all day. At the same time, the antibacterial characteristic of copper also eliminates bacterial threats common today, like EMRSA. The fabric is ensured to kill >99.9% of microbes after 40 times wash, proved by an International Testing Report.
The Knee Brace's high-performance fabric also keeps an optimal joint temperature no matter the outdoor climate. The consolidated structure helps keep the brace warm in cold temperatures, and cool in hot temperatures. Through this temperature regulation, users never have to worry about sweating problems, resulting in consistent itching.
"Keeping the skin dry is the paramount goal we set out to achieve with this Knee Brace," said Anthony. "Dry skin prevents itching, sweating, odors, bacterial build-up, and all around discomfort. Consider incorporating the benefits of Knee Braces again with our easy to use, easy to wear, and perfectly clean Copper United Knee Brace today."
Reviews are pouring in on Amazon as testament to the revolutionary company's copper-based approach.
"One thing I immediately noticed was a cooling feeling on the leg when I wore it. It breathes well and stays in place from the rubbery band on the top of it," said Amazon Reviewer Master K.
"In addition to a perfect fit, the knee sleeve is comfortable to wear. It stays on tight enough to provide excellent compression and is comfortable throughout my entire workout (walking/jogging and weights). Also, the top of the sleeve stays firmly on my thigh throughout my workout," said Amazon Reviewer Ron2900.
For more information, or to peruse the beneficial functions of Copper United's Knee Sleeve, visit: http://www.amazon.com/Copper-United-Quality-Compression-Support/dp/B01AU84Y4O