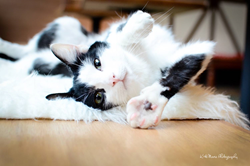 The adoptable cats come from Regional Animal Services of King County
Seattle, WA (PRWEB UK) 20 April 2016
Katzenworld has just released a new report on the launch of Seattles first cat cafe.
Seattle Meowtropolitan which was first opened in December 2015 as Seattle's first cat cafe has since become a popular attraction with locals as well as tourists from abroad. It's popularity marks a further milestone to bring the "cat cafe craze" that started in Asia to the US.
Local Seattle photographer Katherine Moore visited this cat cafe to report on the launch of the cat cafe and reports on what visitors can expect from the ethical cat cafe - Seattle Meowtropolitan.
As part of her visit she compiled a detailed report on the cat cafe and published this on her own photography website as well as on the popular Katzenworld online magazine.
The cat cafe was partly funded through a crowdfunding campaign via Indiegogo which raised about $13.000 US dollars and the rest was made up with personal funds of the founders and a few unnamed investors.
To visit the cat cafe one must make a reservation to ensure that the resident cats are not overwhelmed by large crowds. Cats within the cafe are adoptable and come from the Regional Animal Services of King County.
Seattle Meowtropolitan has taken great care to design a fantastic place with the main area being spacious with lots of light. The cafe will have cat owners gasp and wish to re-create a similar enriched environment for their own cats at home!
For the full story please head over to the Katzenworld online magazine.
For further details or additional photos on this story please contact Katzenworld Director Marc-Andre Runcie-Unger via email marc(at)katzenworld(dot)co(dot)uk
Interviews are available upon request.
About Katzenworld:
Katzenworld is an online cat magazine working on providing cat owners and cat lovers with their number one source for:
Insight on cat care
Top cat events
Cat Cafes
Cat products