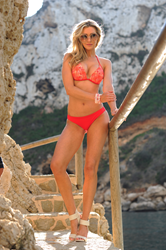 Always in style.
(PRWEB) April 21, 2016
OCEAN Couture brings beach fashion for mother and daughter. SHARK Couture brings beach fashion for father and son. Both brands are 100% Belgian and combine timeless elegance with luxurious quality. The intense colors and tropical-inspired prints stir the vacation feeling. It promises to be a great summer!
Looking towards a stylish summer and the warmer days ahead….
On her many distant trips to sunny destinations, designer Katerina R. Verschuren was inspired to design beachwear for the whole family. The collections of OCEAN Couture and SHARK Couture combine sporty and elegant with eye-catching colors yet timeless shades. Whether one wants to relax with a drink at the pool or beach, alternating with a refreshing dip in the sea, the sophisticated designs are all must-haves for a carefree holiday.
A sea of inspiration…
When designing the collection for summer 2016-2017, Katerina was inspired by the tropical fish of Hawaii. The intense colors and striking patterns were processed into exclusive prints and adorn the bikinis and bathing suits. A unique concept!
Each print is the basis for a fashion line with a theme:

Lionfish goes for intense coral red with a touch of white
Bannerfish combines timeless black and white with a hint of fresh yellow
Parrotfish is a colorful cocktail of turquoise and fuchsia
Picasso Triggerfish brings stylish khaki with black and white
These four tropical fashion lines with matching designs for women, girls, men and boys are the colorful business card of OCEAN Couture and SHARK Couture. The collection is complemented by an elegant navy-line in classic blue, white and red.
Extraordinary quality…
The prints are digitally printed on high quality Italian fabrics using the newest technologies. Combined with the finest materials from Europe and the US, all fabrics are first tested extensively to ensure comfort and durability. The colors are intense, yet the fit remains perfect, so people can feel good about themselves during their vacation and can fully enjoy it!
To really get the most out of the holidays, the collections are supplemented with summer accessories. OCEAN Couture and SHARK Couture are bringing a unique total concept of swimwear and accessories. Besides matching beach footwear and beach jewelry, there are luxurious beach towels and sunscreen.
The clothing of OCEAN Couture and SHARK Couture is made entirely in Europe. Everything is available on the user-friendly online store, and is delivered worldwide. A special e-fitting room was developed to assist customers during their purchases. Simply one's the measured body size and get immediate advice on the right clothing size.
About OCEAN Couture and SHARK Couture…
Since her childhood, designer Katerina R. Verschuren was bitten by the fashion bug. Her father had his own jeans line, and her grandmother had an exclusive jewelry shop. In the library, she stirred her passion even further: She looked for UK-USA fashion magazines and immersed herself in the lives of famous designers. She soon drew her first designs and devoted her school assignments to designers like Yves Saint Laurent and Jean-Paul Gaultier.
After studying marketing, Katerina rolled in the fashion business. She worked as an assistant manager in a luxury clothing store where she was responsible for the purchasing of the collections. When she met her husband, Philip, she switched to the ICT world to build a thriving business with him.
But blood is thicker than water and Katerina feel the itch again after several years. Along with Philip, they started OCEAN Couture and SHARK Couture, two Belgian brands that are fully ready to be discovered by the rest of the world.