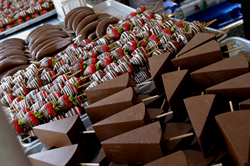 Foods everyone loves made with or dipped in chocolate.
Long Grove, IL (PRWEB) April 21, 2016
Historic Downtown Long Grove proudly presents another weekend dedicated to two of life's sweetest pleasures – chocolate and music! Presented by the Historic Downtown Long Grove Business Association, the annual Chocolate Fest returns May 20 – 22 to the timeless streets of Long Grove Village, just 35 miles northwest of Chicago (http://www.visitlonggrove.com/, #VisitLongGrove). In addition to the signature Chocolate Scavenger Hunt and dozens of exhibitors selling an endless mix of sweet and savory chocolate creations, everything from fried chocolate pudding pies to frozen hot chocolate, Chocolate Fest 2016 also features free family activities and both local and national touring acts live on multiple music stages.
"Above all, Chocolate Fest is a celebration of Long Grove's diverse businesses and unique personalities behind them," said Mary Ann Ullrich, owner of the historic Village Tavern, the longest continuously operating restaurant-tavern in Illinois. "If you want the full experience, you need to wander into our storefronts and discover who we really are."
The Scavenger Hunt
A memorable and fun way to explore downtown Long Grove and all it has to offer during Chocolate Fest is via the Chocolate Scavenger Hunt, sponsored by the town's renowned Confectionery. For $5, chocolate lovers young and old can purchase a specially colored ticket (on sale each day in front of the Confectionery) that correlates to four participating businesses, one for each color category. From there, scavenger hunters adventure around to the respective locations in search of chocolate tastings, compliments of the Long Grove Confectionery Co. In case 12,000+ pieces of chocolate being distributed throughout downtown Long Grove for this year's scavenger hunt is not enough, exclusive sales and coupons for merchandise at participating shops also await hunters!
The Chocolate:
Some of the most ingenious chocolate-infused edibles – i.e., foods everyone loves made with or dipped in chocolate – from a select handful of the area's best restaurants and food purveyors will be for sale at Chocolate Fest 2016. Chocolate specialties being planned exclusively for Chocolate Fest include everything from novelties like hamburgers with chocolate BBQ sauce and chocolate beer, to time-proven favorites like chocolate-dipped fruits and hand-crafted fudge. Vendors include: Smokin' T's Bar B Que, Luke's of Mundelein, Long Grove Confectionery, Galena Canning, Great Grapes, Mellie's Chocolate, Gourmet Goodies and more.
The Music:
Chocolate Fest 2016 is produced by Ravenswood Event Services, programmers of some of Chicago's leading festivals and events, big guns like Taste of Chicago, Blues Fest, and Chicago Marathon. Throughout the 3-day weekend, music of the highest caliber will play out live continuously on three stages. This year's headliners include two powerhouses: the famed 70's and 80's party group, 7th Heaven, and the legendary Beatles tribute band, American English. For the full 3-day music lineup, click here.
The Family Activities
Like historic downtown Long Grove, Chocolate Fest is geared toward families. In addition to the Chocolate Scavenger Hunt and countless chocolate specialties to taste throughout the weekend, families can enjoy sword fighting demos and dueling from Medieval Times knights, and an expanded Kid Zone. For no additional cost, Kid Zone activities include: face painters, bubble shows, art activities, 3-legged races, tug-o-war, potato sack races, coloring, live music performances & much more – sponsored by Primrose School of Long Grove.
The Fine Print:
Location: 308 Old McHenry Rd, Long Grove, IL 60047
Hours of Operation: Friday, May 20: 11 am – 11 pm; Saturday, May 21: 11 am – 11 pm; Sunday, May 22: 11 am – 6 pm.
Admission: $5 per person per day, kids 12 and under get in free. Advance tickets – including a discounted 3-Day pass, are on sale at http://www.visitlonggrove.com/.
Parking is FREE at all public lots:
Stempel Municipal Lot - 360 Historical Lane, Long Grove, IL 60047
Archer Lot - 343 Old McHenry Road, Long Grove, IL 60047
Kildeer Countryside Elementary School - 3100 Old McHenry Road, Long Grove, IL 60047
Sponsored in part by: Budweiser, Primrose School, Bath Fitter, Leaf Filter, Power Home Remodeling, Silver Leaf Resorts, Wyndham Vacation Ownership, Medieval Times, Renewal by Andersen, Chicago Tribune, Blue Green Vacations, James Hardie, Home Improvement Network, Bath Planet, Chiro One, Passanante, Chevrolet, Summer Winds Resort, Gutter Glove, Power House Remodeling, and Flood Brothers.