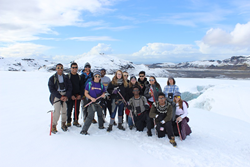 "Preparing our students for the near and distant future is a fundamental part of Milton Hershey School's role," said MHS science curriculum supervisor and trip leader Dr. Jaunine Fouché.
HERSHEY, Pa. (PRWEB) April 20, 2016
A group of 12 Milton Hershey School® freshmen recently returned from a 10-day international education and global awareness trip to Iceland where they attended the Global Student Leaders Summit on Alternative Energy, organized by Education First.
"Traveling internationally and learning about other cultures was a dream come true," said MHS student Ripley VanHoosier. "After seeing that geothermal energy is clearly part of Iceland's culture, I realized that energy can be connected to culture, religion and more things I enjoy about other countries. That realization has opened my mind to other new ideas."
The summit, a two-day leadership conference, gave students the opportunity to hear from world-renowned speakers on business and energy, attend expert-led workshops, and creatively solve a pressing energy issue. The more than 500 students who attended the energy summit in Reykjavik, Iceland were placed into 42 international teams. They were asked to collaborate using design thinking—a creative problem-solving technique used by companies to create and present solutions to the overarching question: "How might we design the future of energy?"
The groups learned about alternative energy and how Iceland is working toward a future free of fossil fuels in order to apply their knowledge to the solutions and prototypes they were charged with creating. They showcased their projects in an Innovation Village where six awards were presented. Four of the awards were "Popular Vote" awards in which students voted for the top four projects. The other two awards were coveted "Judges' Vote" awards in which professional scientists, environmental leaders and young entrepreneurs voted for the most viable and potentially impactful projects.
Milton Hershey School students were on four of the six award-winning teams. Florinda Good-Gonzales's team received the top-ranking Judges' Vote award. Her team's project (a malaria water filter) will be displayed at the Nobel Museum in Stockholm, Sweden this summer. Ivaniel Castro Carmona, Timothy Burge, Ripley VanHoosier, Darius Briggs and Sydney Tierney were all members of teams that received Popular Vote awards. Rachel Seymour and Darius Briggs, along with their team, advanced to the final round of debates on the subject of alternative energy in the year 2040.
"Preparing our students for the near and distant future is a fundamental part of Milton Hershey School's role," said MHS science curriculum supervisor and trip leader Dr. Jaunine Fouché. "Thanks to weeks of advance preparation, our students felt equipped to successfully contribute to their team's efforts. The fact that four of the six award-winning summit teams had MHS students on them is evidence that preparation pays off."
The students spent 12 weeks preparing for the conference by working on their collaboration skills and the design thinking process. Each student also created a video focused on an energy problem in their local community in advance of the summit. In addition to being recognized as part of the Judges' Vote award recipient team, Good-Gonzales was individually recognized for her pre-summit video with the 2016 Best Intro award. As a result, she met and interviewed Nobel laureate former and former U.S. Secretary of Energy Dr. Steven Chu.
The Iceland trip was part of Milton Hershey School's international service/education and global awareness program. Through the program, MHS creates international experiences and opportunities to promote global awareness and understanding among students.
# # #
ABOUT MILTON HERSHEY SCHOOL
Milton Hershey School® is one of the world's best private schools, offering a top-notch education and positive home life to children in pre-kindergarten through 12th grade from families of lower income at no charge.