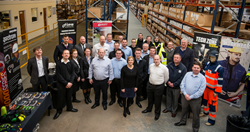 Our customer service team are passionate about the experience of our customers and go to considerable lengths to ensure the best customer experience is achieved.
Ipswich, Suffolk (PRWEB UK) 22 April 2016
Personal protective equipment (PPE) supplier, Anchor Safety has released the results of its latest customer satisfaction survey which includes a stunning increase in its Net Promoter Score (NPS). With an improvement from 26.39 to 70 in a single year, Anchor Safety is delivering a customer experience on par with huge successful brands.
The survey measured performance against 14 different areas of service delivery. From reliability of stockholding to communication, every one of these areas was categorised as 'Improved' by 45% to 75% of respondents.
"It's very enthusing to see the results," says Caleb Horner, Sales Team Leader at Anchor Safety. "Our customer service team are passionate about the experience of our customers and go to considerable lengths to ensure the best customer experience is achieved. It is very rewarding to see the extent to which this has impacted our customer loyalty. We are on a journey with customer experience and these great results will fuel our team to take the next steps with confidence."
The PPE sector is markedly difficult. While, according to Frost and Sullivans March 2016 report, distributors account for 80% to 90% of PPE sales globally, low barriers to entry make the sector hugely overcrowded. What is harder to deliver is exceptional customer service. That is why these results are cause for great celebration at Anchor Safety. In fact, 80.64% of respondents said the performance of the Anchor Safety customer service team was either much better or better than other PPE suppliers. The company strives to give customers the 'Anchor Experience' – and the evidence of this is in the results.
"We are committed to the successful supply and delivery of PPE," adds Caleb Horner. "We understand how important it is for our customers to receive their goods on time, every time, with no errors. Our customers depend on our service and their work is dependent on having the right PPE. As an innovative PPE supplier, we will continue to look for ways to improve our services further, whether we're supplying large national organisations or single site locations."
The Net Promoter Score is widely used to analyse customer loyalty, with each respondent categorised as a promoter (who would refer a company to others), passives (who are satisfied, but less secure), and detractors (who are actively unhappy). With improvements in every area of customer service, it is no surprise that Anchor Safety's overall NPS saw this threefold increase in a single year. You can view the largest NPS benchmark database at NPS Benchmarks. Benchmarks range from -22 upwards and, while the average score varies significantly between industries, a score of 70 or above would be considered excellent by even the world's most successful organisations.
Each time we conduct the survey, we expect our NPS to grow – and, ideally, we'd like to see an NPS above the averages expected in most industries. Anchor Safety's dramatic NPS increase reflects widespread customer satisfaction and the success of new customer service initiatives. The company leverages its relationship with customers to deliver the services they need most, to the highest possible standards. In addition, throughout the coming months, the company has big plans to take its customer service offering even further.
Anchor Safety's customer satisfaction survey results are now available as a free download. Visit http://www.anchorsafety.co.uk to find out more.