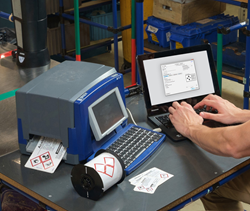 With the final June 1, 2016, GHS deadline nearing, this partnership is focused on simplifying GHS label creation to help make the transition to this new system more seamless.
MILWAUKEE, Wis. (PRWEB) April 21, 2016
Brady (NYSE:BRC), a global leader in product and facility identification solutions, today announced its inclusion of additional Globally Harmonized System (GHS) label sizes in its partnership with VelocityEHS and its leading MSDSonline brand chemical management solution. Brady and VelocityEHS joined forces to provide EHS professionals with an easier GHS labeling solution. By adding the capability to print on 3x4-inch and 4x6-inch labels, along with the previous 2x3-inch labels, right from the MSDSonline chemical management system, customers have expanded size and application versatility.
"With the final June 1, 2016, GHS deadline nearing, this partnership is focused on simplifying GHS label creation to help make the transition to this new system more seamless," says Lori Aeschbacher, global product manager for benchtop printers at Brady. "By incorporating two additional label sizes into our offering, users benefit from expanded printing flexibility to better communicate chemical hazards in the workplace."
Under GHS, chemical labeling is standardized for consistent communication of chemical hazard information. The label format includes six key elements that can be found on the Safety Data Sheets (SDS) that chemical manufacturers provide with the hazardous chemicals they distribute. Users of the MSDSonline system can take information on these SDSs and easily create labels that are formatted with the GHS label elements. These labels can then be printed directly to Brady's BBP®33 and BBP®31 label printers in 2x3-inch, 3x4-inch and 4x6-inch sizes.
For more information:
Visit BradyID.com/GHS to learn more about Brady's GHS solutions. To learn more about VelocityEHS and its MSDSonline brand products and services, visit EHS.com and MSDSonline.com respectively.
About VelocityEHS
More than 8 million users worldwide from virtually every industry trust VelocityEHS and its solutions to improve EHS performance. Its unparalleled customer support and easily accessible platform delivers relevant EHS cloud solutions that help customers reach their goals faster. The company is headquartered in Chicago, Illinois with locations in Canada, the UK and Australia. Its award-winning MSDSonline brand chemical/SDS management solution simplifies the enterprisewide management of chemicals and provides an easy way to safeguard employees. For more information about the full suite of VelocityEHS solutions, visit EHS.com. Information on the company's award-winning MSDSonline brand MSDS/chemical management solution is available at MSDSonline.com. VelocityEHS is an Actua (Nasdaq: ACTA) company.
About Brady Corporation:
Brady Corporation is an international manufacturer and marketer of complete solutions that identify and protect people, products and places. Brady's products help customers increase safety, security, productivity and performance and include high-performance labels, signs, safety devices, printing systems and software. Founded in 1914, the company has a diverse customer base in electronics, telecommunications, manufacturing, electrical, construction, education, medical, aerospace and a variety of other industries. Brady is headquartered in Milwaukee, Wisconsin and as of August 1, 2015, employed approximately 6,400 people in its worldwide businesses. Brady's fiscal 2014 sales were approximately $1.23 billion. Brady stock trades on the New York Stock Exchange under the symbol BRC. More information is available on the Internet at bradycorp.com.
# # #