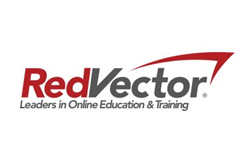 Because PLCs play such a key role in manufacturing automation and streamlining processes, we thought it was critical to offer top quality PLC training to our customers
Tampa, FL (PRWEB) April 20, 2016
RedVector, the leader in eLearning and industrial skills training, has launched a programmable logic controllers training series to aid industrial organizations in increasing manufacturing flexibility, simplifying processes, reducing downtime and improving safety using PLCs.
A programmable logic controller (PLC) is an electronic device used to monitor and control production processes and building systems. Programmable logic controllers, or PLCs, are at the forefront of manufacturing automation, with oil and gas and food and beverage manufacturing organizations representing the fastest-growing end-use sectors of PLCs.
RedVector's new PLC training series includes five, mobile-ready courses written by SME Ralph Hackle, who has nearly three decades of experience in industrial control systems. The training series offers industrial organizations and their personnel guidance in logic operations, programming PLC systems, designing and installing PLCs and more.
"Because PLCs play such a key role in manufacturing automation and streamlining processes, we thought it was critical to offer top quality PLC training to our customers," said Dan McGonegle, RedVector Product Director. "Automation also allows a better quality of life for workers while maintaining quality and efficiency. This training can equip a novice with little or no PLC programming experience with the basic tools necessary to create a complete PLC program."
RedVector's New Programmable Logic Controllers Online Training Course Series Includes the Following Courses:

Programmable Logic Controllers (PLCs) - Introduction and Theory of Operations
Programmable Logic Controllers (PLCs) - Logic Operations
Programmable Logic Controllers (PLCs) - Hardware, Inputs, Outputs, Discrete/Analog
Programmable Logic Controllers (PLCs) - Programming a PLC System
Programmable Logic Controllers (PLCs) - Design and Installation of a PLC System
About RedVector
RedVector sets the standard for excellence in online continuing education and training for the architecture, engineering, construction (AEC), industrial and facility management industries and holds nearly 100 state and national accreditations. RedVector offers individual courses as well as large-scale corporate training solutions featuring customizable and easily accessible online universities with a full range of tracking and reporting features. With an online library exceeding 2,250 courses authored by more than 100 subject matter experts, RedVector serves professionals and organizations in all 50 states. The recipient of numerous community honors and industry awards, RedVector was founded in 1999 and is headquartered in Tampa, Florida. For more information, call 1-866-546-1212 or visit http://www.RedVector.com.